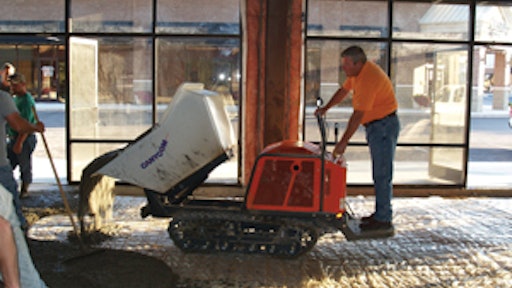 Power buggies have evolved into a productive and versatile replacement for manual labor or larger material-handling equipment on many jobsites. Consider that a wheelbarrow pushed manually can move at about 2.5 to 3 mph, while a power buggy can travel upwards of 7 mph or more.
"Concrete is hot," comments Warren Faler, product manager, Multiquip. "The longer it sets, the harder it gets. You only have so much time to discharge and spread the concrete before it's too late."
"Compared to a concrete pump, these machines are easier to use," adds Terry Rowlands, CEO, Muck Truck. "Keeping pipes clean at the end of the day is difficult and labor intensive. With these buggies, you can just load concrete into the unit and wheel it to the site."
But while commonly known as concrete buggies, these powered wheelbarrows can do far more than move concrete. With features geared toward productivity, and accessories that increase versatility, they will transport everything from dirt and construction debris to pavers and jobsite tools.
"Although the original intent was to place concrete, they are now being used for a wider variety of materials every day," says Faler. "They're simple to use and simple to maintain."
"A lot of our customers purchase our buggies for all the other jobs they can use it for, because they can carry more than concrete," Rowlands notes. "Nearly every machine has some sort of attachment. Very few of them leave the factory without some other options added.
"A lot of these guys aren't doing just concrete," he continues. "They're also digging footings, so they have to carry dirt away. They might be laying pavers or stone. They might not have work in the winter, so they purchase a plow for moving snow. There are a lot of other jobs [buggies] do other than carry concrete."
Enhance productivity
A range of productivity enhancing features are available for power buggies. Here are a few examples:
Hopper options - Most power buggies come standard with a polyethylene hopper. This is well suited for moving concrete and wet materials, because they easily slide out without leaving behind any residue. Many manufacturers also offer a steel hopper, which provides durability for hauling heavy rock or asphalt.
In addition, stake beds and flat beds can be interchanged with plastic or steel hoppers. "This gives a contractor the ability to haul landscape material, plants, etc.," says Kendall Aldridge, IHI Compact Excavator Sales. "With our design, you only need to remove eight bolts to change to the bed. Within a matter of minutes, you can make a switch."
"A stake bed/flat bed option really comes in handy," agrees Ed Varel, engineering project manager, Stone Construction Equipment. "With our units, you can take the sides off the stake bed to turn it into a flat bed, which is good for moving materials that don't fit into a hopper, such as 2x4s."
Hopper size ¬- The most common hopper size is 16 cu. ft., but some manufacturers offer capacities to 21 cu. ft. "Typically, 16-cu.-ft. buggies are the most common due to the large capacity and the versatility to operate in more confined areas," says Fred Russell, Miller Spreader. "But 21-cu.-ft. machines have one and a half times the capacity and can move much more material per trip, given that the jobsite can accommodate the larger size. Smaller 11-cu.-ft. walk-behind machines are usually reserved for smaller jobs with very tight pathways or landscaping jobs."
Hopper design ¬- Manufacturers also offer hopper features designed to boost productivity, such as increased dump angles, higher discharge lips, splash protection, etc.
"We provide a dumping angle that promotes a clean dump," says Faler. "A greater dump angle eliminates the need to manually remove material. We also have a high discharge lip, so when you're backing up with the hopper raised, the lip of the power buggy doesn't scrape the forms. Our splash protection reduces concrete splatter on the operator."
Large fuel tanks ¬- Large fuel tanks are an important feature for extended, uninterrupted use. "You don't want to have to stop and refuel," says Faler.
As such, Multiquip offers a 5.5-gal. tank, while Stone Construction Equipment offers a 7-gal. model.
Tire/track options ¬- Options include standard pneumatic, foam-filled and non-marking foam-filled tires, as well as rubber tracks.
Many contractors opt for pneumatic tires. But if you have a jobsite with a lot of nails or other objects that can cut tires, you might want to consider foam filled. "They won't go flat," says Faler. "And the foam that manufacturers use today offers the cushion of pneumatic tires, so you won't feel all the bumps in the terrain."
Most buggies also come with dual wheels, with the option to remove the outer wheels so the unit can fit through doorways and into backyards. "Our quick-disconnect feature is a patented release mechanism, which allows the outer tires to be quickly removed so the unit narrows from 46 in.," says Varel. "With the outer tires removed, contractors can fit through 36-in. doors."
For more rugged underfoot conditions, IHI/Compact Excavator Sales offers dedicated rubber tracks on its Canycom power buggy. "[With tires], you may have to lay down 2x4s or planks if you're in sand, gravel or muddy conditions so you won't get stuck," says Aldridge. "With rubber tracks, you can go through those conditions without having to take the time to lay a path."
Accessories ¬- A range of accessories are available for power buggies, including tow hitches, snow plows, bulk buckets, forklifts, vacuums, etc. They can add to a buggy's versatility by enabling it to multi-task when not being used for its primary job of moving concrete.
Other considerations
There are a number of other features to consider when it comes to selecting a power buggy.
Power buggies are available in two-, four- and all-wheel drive to accommodate a variety of ground and soil conditions. There are also a variety of drive considerations.
Muck Truck offers a straight mechanical four-wheel-drive system. According to Rowlands, a mechanical drive gives the unit the ability to climb at a 40° angle while fully loaded, plus added power for climbing. "Because of the mechanical drive, it will power up and over an obstacle," he says. "And because you need less horsepower for a mechanical drive compared to hydrostatics, our power to weight ratio is much higher."
Of course, hydrostatic drive also has its advantages. The Canycom buggy is hydrostatically driven. "That makes it very smooth to operate," says Aldridge. "With the hydrostatic drive, once you let off the drive, the buggy stops immediately, rather than coasting to a stop once you hit a hand brake."
Also consider how you want to control the buggy, advises Varel. "We offer the option of hand or foot control for dumping and for braking for complete control of the machine," he says. "In addition, the directional and speed controls are mounted on the handlebar to allow the operator to keep both hands on the handlebar at all times, regardless of the direction they are traveling."
Some units are also equipped with proportional controls that allow you to "customize" how material is dumped. "We have a hand and foot control, so you can dump fast or slow or half way, etc.," says Aldridge. "That way, you can control how much and how quickly you dump a load."
Safety is another consideration. The American Society of Mechanical Engineers (ASME) provides safety standards for stability, braking, etc. "You don't want to increase the risk of employee injury by buying an inferior machine," Russell states. "Safety is first and foremost. When choosing a buggy, it should meet ASME safety standards to ensure it is less likely to be a hazard to operators. [This can] minimize accidents and injuries, which means less downtime and more productivity."
Companies in this article