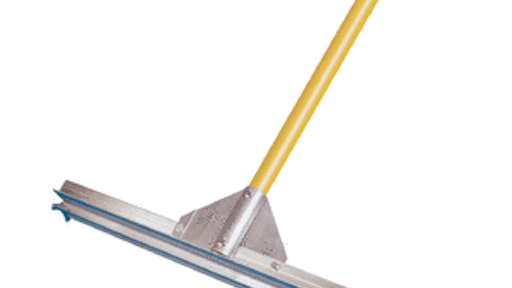 CAM Gauge Rake
The CAM Gauge Rake from Midwest Rake is a patented tool designed for the application of coating material.
Available in eight sizes ranging from 1/32 to 1 in.
Zinc-plated hardened steel cams for long-lasting use
Comprised of an aluminum frame with either a threaded handle adapter or a powder-coated aluminum handle
Midwest Rake Company
Conquer 25 Planetary Grinder/Polisher
The Conquer 25 cuts a 25-in. grinding path and features a 7.5-hp dual phase motor. Its Magnetic Quick Disconnect Tooling System allows for fast and easy tool change. An optional Vacuum Towing Package eliminates cord and hose management.
Kut-Rite Manufacturing
Diamond Tooling Products
For grinding and polishing concrete or natural stone floors
Line includes three categories of metal-bonded diamond tools for grinding and leveling soft, medium and hard concrete each available in 30, 60 and 120 grit
Two resin-bonded products for polishing concrete floors, each in 100, 200, 400, 800 and 1,500 grit versions that fit the standard hook-and-loop backing pads
Saint Gobain Abrasives
FastFloor by Rhino Industrial
Two-component, hybrid polyurea coating system specifically formulated for commercial and industrial flooring
Rapid curing allows a return-to-service time of one day; light foot traffic in 2-4 hours
Apply with a hand-roller, brush or squeegee
Two formulations include FastFloor HB (high build) for industrial floors and FastFloor DF (decorative floors) which utilizes paint chips, colored quartz and other decorative flakes to create a unique floor
Zero VOCs and environmentally friendly
Excellent UV resistance
Rhino Linings
FasTop 12S
Sherwin-Williams' FasTop 12S is a three-component water-based urethane concrete. It is 100% solids, self leveling and offers resistance to impact, thermal shock, chemicals, hot oils and steam cleaning. FasTop is a concrete floor system that offers a longer working time.
Sherwin-Williams Company
Integral colors
Pure mineral pigments designed for use in cementitious slump applications
Available in numerous colors
Available in standard 25 lb. repulpable bags or custom bag sizes from 1 to 49 lbs.
Bag can be added to ready mix truck after opening and readily disintegrates to become part of the mix
Brickform, A Division of Solomon Colors
MatchCrete Clear
Roadware introduces MatchCrete Clear, a two-component, UV-resistant polyurethane for repairing cracks, spalls and joints in concrete subject to UV exposure from sunlight. Colored sand and pigments may be added to the clear material to create color stable repairs that match most any decorative or shade of concrete surface. The product sets in 20 to 40 minutes and fully cures in a few hours.
Roadware, Inc.
ProSpec Floor Patch Pro
ProSpec's Floor Patch Pro is a single-component, polymer modified, cement-based patching compound designed for use over concrete, wood and cement terrazzo substrates as well as cutback residue adhesive. Developed for interior applications from feather edge to 2 in., Floor Patch Pro contains no large aggregate, meets floor covering industry standards for strength and reaches an ultimate compressive strength of over 3,500 psi.
Bonsal American
Ram Board Temporary Floor Protection
Flex-Fiber technology creates a breathable product that allows continued curing on concrete floor
Heavy duty and reusable
Non-staining
Roll size is 38 in. x 100 ft. (317 sq. ft.) and 46 mil thickness
Lays flat
Protects concrete, colored concrete, wood, stone, tile and more
Ram Board
Stone Screed Bull
The Stone Screed Bull from Stone Construction Equipment is a handheld vibrating power screed that comes in a heavy-duty professional contractor's model (VSB80) and a lighter weight, rental-ready model (VSB70). The VSB80 handles boards to 16 ft. and weighs 32 lbs. while the VSB70 runs 12-ft. boards and weighs 25 lbs. Both models are powered by 4-cycle Honda GX25 engines
Stone Construction Equip. Inc.
Companies in this article