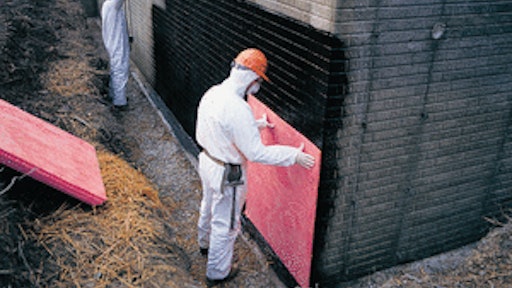 Blue Max
Liquid rubber for waterproofing and repairs
Can be used for basements, ICFs, and below-grade block and concrete waterproofing
Available in a sprayable-grade and trowel-grade
High in solids and dries to a 800% elastic membrane that resists cracking and peeling
Contains no petroleum, is non-toxic, low odor, and environmentally friendly
Can be used as a potable water coating
Ames Research Laboratories, Inc.
DELTA-Footing Barrier
The DELTA-Footing Barrier is a three-ply impermeable membrane placed on top of a freshly poured footing before the foundation is poured to prevent water from wicking up through the concrete. The barrier creates a capillary break between the footer and foundation and keeps ground water from entering and accumulating in the basement walls. The barrier is flexible and consists of an anti-slip surface, an impermeable polyethylene barrier and a polyester needle-punched fabric for maximum adhesion to freshly poured concrete.
Cosella-Dorken
Ecobase waterproofing
High quality, water-based, polymer modified waterproofing membranes
Highly flexible, seamless and fully bonded, environmentally friendly and ICC-approved
May be applied to green concrete
Epro Services Inc
Mapelastic Smart
Two-component, flexible cementitious membrane
Applied by roller or brush
Waterproofing and concrete protection against atmospheric elements like seawater, salts and sulfates
For concrete foundations, retaining walls, balconies, terraces, swimming pools and fountains
Mapei Corporation Usa
MEL-ROL LM
Single-component, polymer-modified, cold-applied, water-base, liquid waterproofing membrane
For below-grade vertical seamless waterproofing applications
Heavy-bodied, high solids, quick drying liquid membrane
Can be applied with either a sprayer or a roller
Can be used on new and remedial applications on concrete or masonry block substrates as well as ICFs and "green concrete" applications
W.R. Meadows Inc.
Platon DOUBLEDRAIN
CertainTeed Corp. now offers Platon DOUBLEDRAIN, a double-sided, high-density polyethylene (HDPE)-studded membrane used to wrap foundations during the construction process to help prevent interior moisture penetration. Used in residential and light commercial projects, the product has a toxicity of zero and is chemically inert. With drainage channels on both sides with geotextile laminated to one side, the system provides soil side drainage, wall side drainage and protection of elastomeric waterproofing for a complete waterproof barrier on foundations to a depth of 20 feet. Additionally, DOUBLEDRAIN may also be used for independent damp proofing applications without a primary membrane.
CertainTeed
TUFF-N-DRI Basement Waterproofing
Can be applied to block or poured foundations
Includes a polymer-enhanced membrane, spray applied to span foundation settling cracks
System includes Warm-N-Dri Foundation Board, applied for insulating value and drainage assistance
Tremco Barrier Solutions
Ultra Shield ICF
Water-based, polymer-modified coating
Designed for use below grade on insulated concrete foundation walls
Engineered to meet or exceed the performance properties of the best polymeric waterproofing coatings
Adheres to foam forms
GMX, Inc.