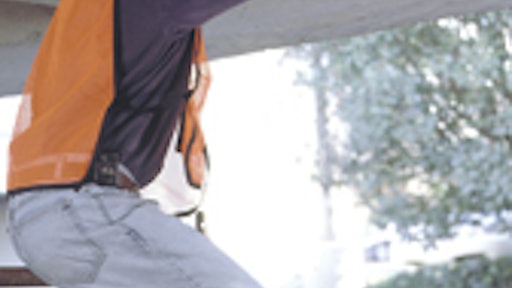 With millions of square feet of existing concrete out there, offering repair services can be a great way for a contractor to grow his business.
Quikrete FastSet
Quikrete FastSet Repair Mortar is a Portland cement-based high-strength mortar specially formulated to make structural repairs to any surface.
30-minute working time
Provides low sag for vertical, curved and overhead repairs
Achieves a compressive strength of 2,000 psi in three hours and 6,000 psi in 28 days
Available in 20-lb. pails or 60-lb. bags
White Lightning Stop Gap
Krylon Products Group offers White Lightning Stop Gap triple expanding insulating foam for use in cracks and gaps in concrete walls, masonry and exterior sheeting.
Dries tack-free in 30 minutes
Cures in eight hours
Forms an airtight and waterproof bond
Can be applied from 60 to 100 degree F
Dayton Superior Sure Finish
Dayton Superior's Sure Finish is designed to simplify the leveling of imperfections in new and old concrete surfaces.
High polymer-modified, cement-based product
Can be applied from a true feathered edge up to 1/2 in. thick for skim coating and flash patching
Mapei Planitop X
Mapei Planitop X is a one-component, shrinkage-compensated, fast-setting, polymer-modified cementitious repair mortar.
Suited for vertical, horizontal and overhead applications
Can be applied in thicknesses of featheredge to 4 in.
Cures within three hours and can be sculpted during curing time in order to customize repairs
Scofield Texturetop
Scofield Texturetop is a cementitious topping for restoring and texturing concrete hardscapes.
Can be imprinted to replicate appearance of stone, wood or other textures
For commercial, industrial or residential, interior or exterior use
Available in a full range of colors
Offers durability and abrasion resistance
Devcon Ultra Quartz
Devcon Ultra Quartz is a heavy-duty, premium floor-patching system that is resistant to chemicals as well as abrasion.
Trowelable to a smooth, nonporous finish
Compression strength of 9,000 psi
Can be built up to a thickness of 1 in. on damaged or pitted concrete floors
Can also be used to repair overhead and vertical surfaces
Achieves full cure within 16 hours of application
Roadware 10-minute Concrete Mender
Roadware's 10-minute Concrete Mender repairs cracks and spalls in concrete by penetrating deep into concrete surfaces and clinging to aggregate within the concrete.
Applies at a viscosity less than 8 cps and will absorb into concrete faster than water due to a surface tension one-third of water
May be applied at a wide temperature range — from below 20 degrees to more than 100 degrees F — without modification