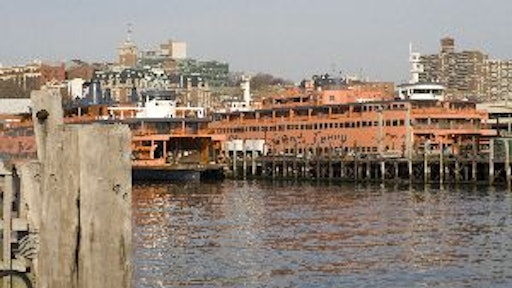 The return of marine borers to New York Harbor has had devastating consequences to many of New York City's waterfront structures that are supported by fast deteriorating timber piles. In recent years, New York City Economic Development Corporation (NYCEDC: New York, NY) has responded by developing a waterfront management and rehabilitation program for its piers and wharves including the St. George Fishing Pier's Pier 1; just steps away from the Staten Island Ferry.
As part of their recent redevelopment of the Staten Island Ferry Terminals that connect with the southern tip of Manhattan, NYCEDC deemed that the 60+ year-old Saint George Fishing Pier required below deck timber pile rehabilitation/encasement due to years of extreme marine erosion. A key component of a larger renaissance of St. George's wharf, pier, and bulkhead properties, the refurbishment and stabilization of the 845-foot-long pier would ensure the continued opportunity for the public to catch bluefish, flounder, blackfish, porgy, and striped bass from the shoreline that feeds into Upper New York Bay.
To determine the scope of restoration and most efficient construction solution, Turner Construction, in behalf of NYCEDC, retained the services of Pennmax Engineering (Pound Ridge, NY) to provide underwater inspection and Bid Documents for the repairs. Based on their assessment of encasement repairs required to prevent future deterioration and extend the life of the structure, Pennmax specified 121, twenty-foot long, stay-in-place FRP (fiber-reinforced polymer) pile jackets which would be filled with lightweight concrete.
According to Pennmax's principal owner John Pensiero, "The most critical performance spec was durability to extend the life-cycle integrity of the concrete. We chose a stay-in-place form to provide additional durability, protection, and economic efficiencies since no stripping was required. We also specified a 1/4-inch form thickness to withstand ice / debris impact forces and prevent erosion of the concrete from tidal action."
The NYCEDC approved the Pennmax drawings for the project and awarded the contract through national general contractor Turner Construction (New York, NY). Trevcon Construction Company, Inc. (Liberty Corner, NJ) was selected to perform the underwater construction and Molded Fiber Glass Construction Products (MFG-CP: Independence, KS) was selected to satisfy the project specifications for the FPR pile forms. Because of the underwater construction of the pile restoration; Pier 1 will remain open to the public during construction. The project began in October 2008 and is scheduled for completion in summer 2009.
PILE JACKET PERFORMANCE / SPECS: To help restore the structural integrity to the deteriorating piles, MFG-CP, a division of Molded Fiber Glass Companies (EST: 1948), met Penmax's performance specs in providing a structurally stronger single seam FRP solution designed to leave in place - which meant no removal assembly time.
Made from chop strand mat and woven roving, the two materials provide better physical properties so the jackets meet/exceed specifications vs. gun-roving/chopper gun applied which is not as strong. The resulting FRP composition benefits provide resistance to abrasion while adding structural stability and impact resistance when concrete or grout is properly placed in the form. Additionally, they are chemically resistant to acids, alkalis and most solvents and are durable in seawater.
Pier 1 / Pile Jacket Specs: Thickness: 1/4-inch thick (vs. 1/8" standard) Diameter: 30 inches Length: 20 foot lengths Weight: 400 lbs. per form
According to Pensiero, "Because the forms extend up twenty-plus feet and would initially contain fluid concrete, they had to be strong enough to endure the concrete pumping operations and prevent blow-out. MFG-CP's pile forms m the required thickness and tensile strength to ensure that they wouldn't blow-out during the pour."
UNDERWATER PILE INSTALLATION: The MFG-CP pile jackets are lightweight and relatively easy to install; featuring a slip-joint/ tongue-and-groove closure configuration which makes underwater assembly easy for divers. The FRP pile jackets also offered a flexible, peal-away liner design seam and a resin bond finish to the jacket - eliminating the need to sand-blast for chemical adhesion to work in conjunction with the lightweight stone concrete pour.
Due to the 20' extension of the jackets in deeper water, the jackets utilized a bell-and-spigot connection. This saves time in installation, allows for stacking and adds more strength structurally for concrete placement during the pumping operation.
Accoding to Trevcon Project Manager Ron Treveloni Jr., "Installation began by using steel reinforcing around the existing pile which was measured to fit the FRP form. Then 3-4 dock builders dropped each form in the water and set it on a floating platform to each pile location. A single diver then installs each form with the assistance of two dock builders; fastening each pile's tongue-and-groove configuration in place."
Treveloni noted the unique concrete pour processes stating, "We utilized a concrete pump at the bulkhead since no concrete trucks were allowed on the pier. Hard pipe extending about the length of a football field from the land pumped to a hose on the pier, then down to the diver at the base of the pile. The concrete pumping pushed from the bottom up at 3 yards per pile. There were two pumping ports on each pile-one on the bottom and one in middle. Each pile was poured in two lifts, taking about one-half hour per pile."
According to Treveloni, they utilized a 3/8" lightweight stone concrete noting, "It's a tricky concrete but it was mandatory because the additional weight could pose potential structural damage to the pier."
FRP PILE JACKET CONCLUSION: With the growing need for strengthening waterfront infrastructures including; pile deterioration due to ice, marine borers, floating debris, chemical pollution, oils, acids, water and tidal pumping, etc. there is an essential charge for alternative, cost-effective restoration solutions.
Combined with the correct epoxy/concrete bond, the FRP repair jacket forms surrounding existing piles (timber/steel/concrete) can efficiently refurbish (vs. replacing) the existing pile- thus, strengthening them to their original or better strength. In addition to pile replacement savings, the easy-to-use MFG-CP jacket installation also accommodates the efficiency of requiring no pier, terminal, or facility shut-downs.
MFG-CP offers standard diameters available in 12-36" and can accommodate custom sizes for unique applications. Lengths are produced to specifications and ultraviolet resistance accommodations are available.
"MFG has been our choice of FRP pile jacket forms since we started this type of work. Not only have they given us quality products but their service and the ability to meet delivery dates is outstanding." - Ron Treveloni Jr. / Trevcon Project Manager
MFG-CP / CORPORATE PROFILE: MFG Construction Products Company, formed in 1962 and a charter member of the World of Concrete, manufactures a complete range of one-piece round column forms (RCFs), dome and pan forms for one-way and two-way joist slab floors, and custom forms used in cast-in-place concrete construction applications. Made of fiberglass-reinforced thermo-set composites, MFG concrete forms can significantly reduce finishing costs and are fully re-usable. Comprised of twelve key entities in eight states Molded Fiber Glass Companies (EST: 1948) has been a pioneering force in optimizing resins and fiber reinforced polymer (FRP) materials and continues to build strength through focused diversity in providing superior composite material solutions worldwide.
©2008 Molded Fiber Glass Construction Products. All rights reserved.