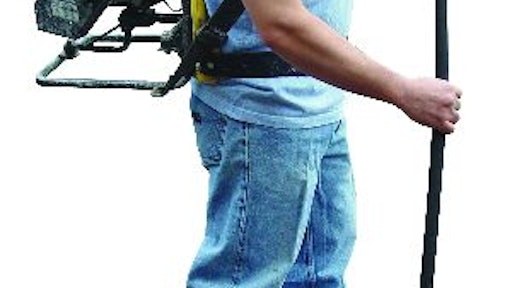 To meet the demand for a portable and lightweight gasoline engine backpack concrete vibrator, Oztec tried every available lightweight gas engine near 50cc power and decided on the dependable Honda gasoline engines.
Backpack gasoline vibrators have many advantages, including:
Truly a one-person vibrator - Often you will see a crew using two people to operate an electric motor concrete vibrator. One person carries the motor and the other manipulates the shaft and head. With the backpack, only one person is needed to hold the unit and operate the shaft and head.
Lightweight and comfortable to use.
Goes anywhere - Without the restriction of an electric cord, the gas backpack is unrestricted in distance from a generator or temporary power source.
Constant speed - Gasoline engines keep constant vibrations per minute of the vibrator head regardless of the head size. This means that you can run the smallest size vibrator head to the maximum recommended vibrator head size for that Backpack model and maintain a constant head speed of 12,000 vpm. The Honda engine on the Backpack runs at a constant 8,000 rpm and when coupled to our "speed-up" transmission, vibrator heads develop 12,000 vpm, which is a perfect speed for concrete consolidation.
Oztec Backpacks come standard with the Quick Disconnect "QD" system which easily allows operators to change shafts and heads on the job without the need for tools. The same Quick Disconnect is used on Oztec Electric Motors, making it easy to switch shafts and heads from Oztec Backpacks to Oztec Electric Motors.
Backpacks are excellent standby vibrators if there is a loss of power during a concrete pour. The shaft and head can be switched from an electric motor to the backpack in seconds, because of the Oztec Quick Disconnect, and the operator can continue consolidating concrete.
When consolidating concrete for poured floors, the concrete is often placed in mounds and then vibrated to level it out and consolidate the concrete. After vibrating, the concrete is troweled flat and smooth. Electric motors require an electric cord with sometimes very long extension cords to reach the power source. These electric cords can accidentally fall into the wet concrete and ruin the flat surface, causing it to need to be reworked. With a Backpack, there aren't any electric cords to ruin newly placed concrete.
The BP50a Oztec Backpack is equipped with a totally enclosed rotary throttle, allowing the operator to comfortably control the engine while preventing wet concrete from entering and clogging the throttle mechanism. A kill switch is also conveniently located on the same handle. The patent-pending rotary throttle has been specifically designed and engineered to eliminate the operator's variable setting of the engine speed. This feature will ensure that the unit will consistently produce the proper vibrations per minute resulting in optimum concrete consolidation.
Oztec Backpacks can be easily transported without a generator for small patch jobs or work in remote areas.