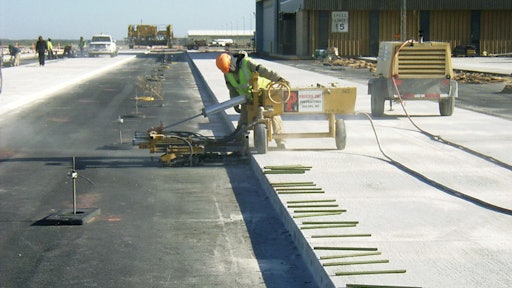 The Challenge:
Overhaul a rundown World War II-era hangar apron for the Kansas National Guard in Salina, Kansas.
The Players:
Pavers Inc.
The Process:
The hangar apron at Army Aviation Support Facility No. 2 in Salina, Kan., did not drain properly and needed to be repaired. Pavers Inc. took on the process of overhauling the 1,000- by 300-ft. apron. The job required milling 6 in. of old asphalt and concrete and replacing it with a new concrete overlay. The Salina airport project for the National Guard had the company facing two feet of concrete and asphalt. The $1.9 million project was bid in the fall of 2010, and work began in November.
Pavers shared the project tasks with other contractors on the job. One contractor did the milling for the top 6 in. of old concrete and asphalt, while another company installed a 1-in. asphalt bond separation layer. A third major subcontractor provided traffic control, installing barriers around the work area, and doing striping. Pavers focused on the drilling, doweling and concrete overlay.
Pavers used an E-Z Drill Model 210B-2 SRA two-gang slab rider drill and a Model 210B-3 SRA three-gang version on the job to help meet the April 2011 finish date. The company needed to drill more than 32,000, 7/8-in. diameter, 18-in. deep holes to complete the job with about 875 holes for each lane edge. With a crew of 15 to 18 employees, Pavers divided the 300,000-sq.-ft. tarmac area near the hangar into 18, 16-ft.-wide lanes, along with a few smaller areas.
The crew poured two lanes at a time and then came back to drill the edges on both lanes before moving on. In just a day and a half, Pavers could finish four 1,000-ft.-long edges, according to Neal Saskowski, vice president of Pavers. Once Pavers had each lane's holes drilled, they epoxied the dowels into place and finished off the lane with fresh concrete. Saskowski says the equipment's reliability prevented any downtime in the process.
The completed space is used for 10 helicopter pads for the Kansas Army National Guard's UH-60 Black Hawk helicopters. The thicker concrete area allows heavier transport planes, such as the Guard's KC-135 refueling stratotankers to be pulled close when they're in the area.
Companies in this article