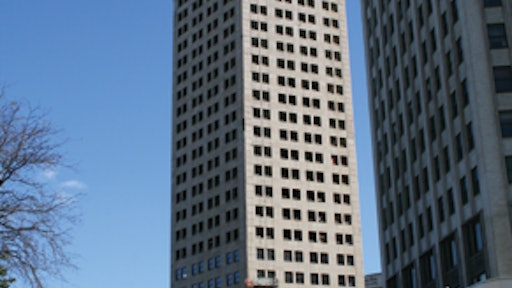 The Broderick Tower was one of Detroit's earliest "skyscrapers" when it pierced the downtown skyline at Grand Circus Park in 1928. Originally named Eaton Tower, the building's neoclassical architecture was a combination of Chicago school and Beaux-Arts design by famed architect Louis Kamper and was considered "a beauty by day - a jewel by night." Over the years, it went from being Michigan's second tallest skyscraper to being the third-tallest abandoned building in the U.S.
Standing basically vacant, but preserved since the mid 1980s, the 34-story historic building is now part of a $53 million restoration project funded by Motown Construction Partners L.P. led by Fred Beal's JC Beal Construction Inc. (Detroit, MI), which is acting as construction manager. Detroit's Kraemer Design Group and Akins Construction, Inc. are serving as the architectural firm and assembly contractor, respectively. The plan is to restore this key component of the city's skyline to its original prominence and luster as a luxury residential and office building with panoramic views of downtown Detroit's commercial and entertainment district.
With construction beginning in March 2011 and a Grand Opening slated for September 2012, significant budget concerns existed over the methods of repair to the exterior restoration in order to properly preserve and enhance the building's core. Notably, the deteriorating exterior limestone corners of the building would have to be completely replaced at great cost.
Solution Preserves Original Aesthetics
During the projects' initial inspection, at least two large pieces of limestone corners had fallen from the 18th floor during a storm due to rusted anchoring and freeze/thaw water damage. The historic style and age of the building's expansion joints in the corner limestone columns, where major 'sway' movement occurs, made removal and replacement of the limestone corners on all 34 floors of the historic tower seem imminent.
Given the project's economical budget restraints, other methods of repair were explored and Akins Construction contacted masonry-repair supplier Helifix to provide an alternative solution to replacing the large volume of loose terracotta and limestone on the building's deep corners.
Helifix recommended its DryFix Remedial Tying system. Quick and easy to install, the remedial pinning and tying system provides an effective and economical stress-free connection between all commonly used building materials in both cavity and solid masonry constructions without needing any special grouts, resins, or mechanical expansion.
DryFix remedial ties, along with the associated installation techniques and Helifix grouts, produce secure connections with brickwork, CMU blocks, stonework, concrete, marble, limestone, travertine, terracotta and timber. The system is embedded within the existing masonry so it is concealed once installed. Because it's generally installed into the existing masonry, tear down and rebuild are avoided while retaining the visual aesthetics of the structure. This made the system ideal for The Broderick Tower exterior restoration project, and it was quickly approved by JC Beal and Kramer Design.
Cornerstone Installation
Helifix delivered the DryFix materials within 24 hours of approval and remained onsite to assist Akins during installation. A variety of lengths and sizes (10-in. to 15-in.) of remedial ties were used to secure the loose terracotta and limestone on all four corners of the building's 34 floors, in addition to various re-anchoring throughout the rest of the building.
Installation involved power driving approximately four to six anchor ties per cornerstone into position via a small pilot hole, and using a special installation tool that leaves the end of the tie recessed below the outer face to allow an 'invisible' finish. Since there was no sound "backup" anchor stone available, the ties were anchored into adjacent limestone corners on each side for an optimal structural repair. Helifix polymer grout was also used in key areas.
The project is on track for completion by the Broderick Tower's Grand Opening in September 2012. Notably, there was no need to remove any of the limestone corner columns, and ensuing pull-tests conducted on completed installations indicate optimal flexibility and movement during "sway" as the stones stay securely anchored.
According to Rich Akins, owner of Akins Construction, "Other methods were explored to remove the limestone completely with new anchors to the backup walls. Ultimately, Helifix's DryFix solution provided the ability to restore rather than replace the limestone corners and saved Motown Construction Partners upwards of approximately $1 million to the project's exterior restoration budget."