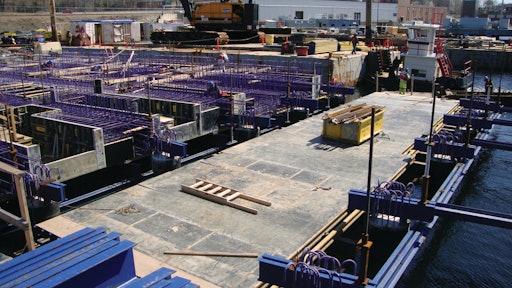 The Challenge:
Demolition of an existing pier and construction of a new pier at a naval submarine base in Conneticut
The Players:
American Bridge Company
Doka USA
The Process:
While demolishing an existing pier and constructing a new one may not sound like a challenging job, the scope of word involved with the Pier 31 project at the Naval Submarine Base in New London, Groton, Conn., proves otherwise.
In addition to the demolition of an existing pier, the scope of work includes construction of a new 550-foot long by 67-foot wide naval submarine pier with associated utilities, fender system and other amenities. The pier is supported on 116 concrete filled steel pipe piles, each 36-inches in diameter. Of this total, 75 will be driven and secured with drilled rock sockets, while the remaining piles are friction. The pier is constructed of a complex honeycombed cast-in-place concrete substructure of pile caps, duct banks and mechanical chases and will be topped with a cast-in-place concrete deck. The scope of work includes a total of 40,000 square feet.
American Bridge Company, serving as the general contractor, architect and concrete contractor, is self-performing the demolition, piling, precast erection, cast-in-place concrete and fender system, along with other miscellaneous items.
The Deck tables are located right at the tide line. American Bridge can only cycle the Deck at low tides, known as "spring tides" when the sun, earth and moon all form a straight line. These occur twice per month.
Another challenge was the tables and support system needed to be engineered to handle a wide range of pile deviations 6 to 8 inches in any direction. Additionally, the pier has concrete duct banks that run in both directions along the entire pier. Since these locations aren't typical, the customer chose Frami with its lightweight and versatile design, due to the ability to change the configuration of the formwork from bay to bay.
To meet these challenges, American Bridge and Doka worked together to engineer, design and fabricate a structural false-work deck system sufficient to support the live loads to place the cast-in-place concrete substructure monolithically. One key element of the solution was procuring enough false-work materials to construct a platform for more than half the pier. This will provide the opportunity to gang-form much of the structure, reducing installation time and labor costs. As portions of the work are completed, the false-work will be lowered onto floats and reused to complete the remainder of the pier.
"This was a complicated Pier with a challenging formwork system due to the underside of the pier affected by the tidal waters. This tidal sequence made it challenging to come up with the right system to be practical to strip," said Kevin Moynihan, project manager, American Bridge. "We used wooden floats to float out the 21-foot by 73-foot form panels from the underside of the pier. Where we could not use a float, we installed Styrofoam on the Doka panels so they would float out on their own."