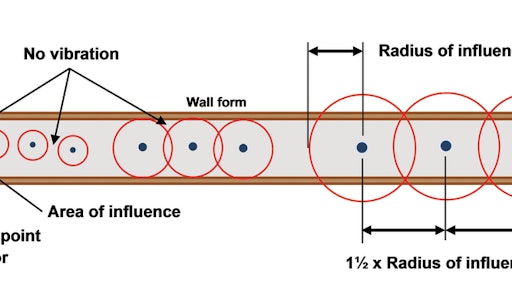 Deposit concrete with a maximum lift thickness of about 20-inches. Make lifts level as possible and do not use the vibrator to move concrete horizontally.
Plunge the vibrator vertically into the concrete. Use a uniform spacing not to exceed about one and a half times the radius of influence over the entire placement area.
Let the vibrator sink by means of its own weight to the bottom of the lift and penetrate the previous lift about 6 inches.
Manipulate the vibrator with an up-and-down motion for 5 to15 seconds to knit the two layers together. Do not worry about over-vibrating the concrete; most concrete is under-vibrated.
Withdraw the vibrator gradually with a series of up-and-down motions so air bubbles are worked upward in front of the vibrator.
Rapidly extract the vibrator from the concrete when the head becomes partially exposed. If the vibrator hole does not close, partially and quickly reinsert the vibrator a short distance away from the hole.