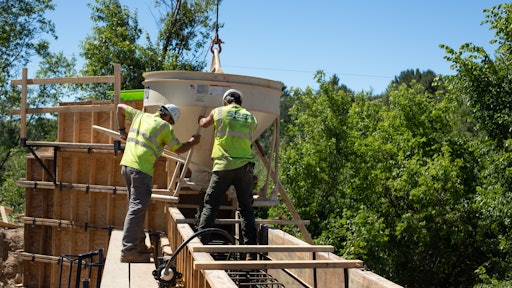 Sheet Piling Services
Constructing a highway bridge is no small feat. A single project takes weeks from start to finish, including the planning stage, the hands-on construction aspect and final safety testing. Sheet Piling Services, a Custer, Wisconsin-based heavy civil contractor, is acutely aware of the details, nuances, and checkpoints that go into major concrete construction projects. The specialized contractor has been working across the Midwest for nearly a decade and in 2022, completed more than 30 large highway bridge projects. With that level of experience, they can make a complicated process appear easy.
One of those projects completed in 2022 was a replacement civil (standard road/highway) bridge commissioned by the Wisconsin Department of Transportation (WisDOT). The beam span bridge provides traffic access over the Little Rib River in Little Chicago, Wisconsin and spans 105 ft. long by 37 ft. wide. It uses precast beams that sit on top of the abutments, with a concrete deck poured on top. Parts of the concrete work on this bridge were poured on-site including the abutments and bridge deck concrete, totaling 258 total cubic yards of concrete. Other aspects, including the prestressed concrete bridge girders, were poured offsite and supplied by a precast concrete manufacturer.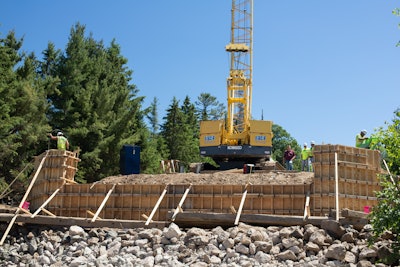 25-ft. Tall Concrete Abutments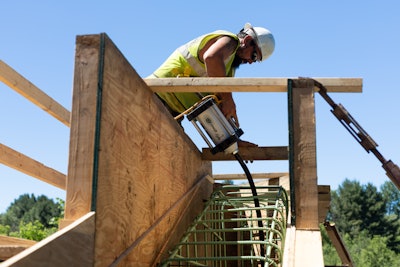 Vibrating concrete is crucial as it helps crews achieve a high-quality, high-performance product. Quality and performance are always of utmost importance, especially for a highway bridge that will support vehicle traffic and provide safe transport for drivers and passengers. Anytime concrete mix was poured on site for the bridge project, it was vibrated to help the concrete consolidate and prevent voids and honeycombing issues.
To begin the project, the crew poured 25-ft.-tall concrete abutments. Due to their location, crew members couldn't get close enough to vibrate each layer of concrete as it was added. Instead, they had to vibrate from the top. That's where interchangeable vibrator lengths became essential. The crew used Minnich Stinger and Backpack concrete vibrators in varying head and shaft lengths to get the job done. These parts are easily switched out and interchangeable between the different vibrator models.
"The concrete vibrator parts are interchangeable, which isn't the norm. I've never used another brand with that capability," says Kris Kosobucki, Sheet Piling Services project manager. "You can cut the core and casing down to fit your needs, but you can't go back to the previous length unless you buy a new one. Being able to switch out a length instead of buying new is a big deal as far as cost is concerned."
At first, the crew needed to reach 25 ft. deep, but that wasn't the case for the duration of the pour. Using concrete vibrators with interchangeable cores and casings, the crew replaced the longer lengths with shorter ones as the pour progressed—a convenient feature that changed the game for Sheet Piling Services. A large amount of rebar was used in the project, which means the concrete had a lot of obstacles to consolidate around. Concrete vibrators helped achieve the proper consolidation for maximum strength.
Pouring the deck was another challenge made easier due to quality concrete vibrators. To increase speed and efficiency in pouring the deck, Sheet Piling Services used a Bid-Well 3200 machine that ran on rails to pour concrete as it traveled the length of the bridge.
A tremendous amount of concrete was needed for the deck pour. Using this specialized machine meant crew members could spend their energy on more granular, skill-oriented tasks. Two crew members wearing backpack vibrators followed the machine placing concrete, and consolidated material behind it.
The backpack vibrators have become a favorite among crew members, as it allows them to be hands-free and move more freely around the jobsite, while also reducing operator fatigue. Each of these benefits is made even more important when you consider where crews are walking, high in the air and along the concrete deck or rebar.
The Payoff
The WisDOT performed the required testing on the concrete's slump, temperature, and time from mix until placement. They also performed strength tests. The Little Chicago replacement bridge project passed the testing phase with flying colors. The entire project was completed in 28 days—8 days ahead of schedule. Many factors contributed to completing the bridge in only four weeks, one of them being Sheet Piling Services' fleet of concrete vibrators.
"Vibration is a small piece of concrete construction, but at the same time, very important," says Kosobucki. "If you have to redo portions of the bridge because you failed to use a concrete vibrator, it's going to cost you a lot of time and money."
When concrete doesn't pass the necessary tests, the result is a major hit to the contractor. Inspectors will either order repairs or re-pours based on the state of the concrete. It's necessary to ensure bridge safety but costs the contractor valuable time and money.
Concrete vibrators are small but mighty, and depending on the challenge at hand, can help contractors avoid these kinds of setbacks. Vibrating concrete may seem like a small part of the grand scheme of a major highway bridge build—but it's crucial for getting the job done right and completing it on time.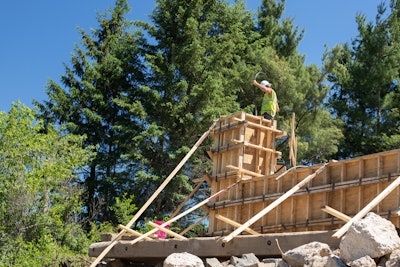 Kosobucki's team has grown accustomed to using concrete vibrators and use them in 90% of all jobs. Drop in on any of their jobsites and you'll find at least two concrete vibrators on hand, and up to six in some circumstances. "We bought a couple of Minnich vibrators from our distributor in 2021, bought more the following year. And I'm not afraid to say, we'll probably buy a few more this year. They've been great to work with and their service is top-notch," says Kosobucki. In total, they have 12 Minnich concrete vibrators including the CSV, Stinger, and Backpack models.
Sheet Piling Services recently completed a separate 16-hour concrete bridge deck pour using 1,800 cubic yards of concrete and the same Stinger and Backpack concrete vibrators used on the WisDOT bridge. "They worked flawlessly the entire pour," says Kosobucki.