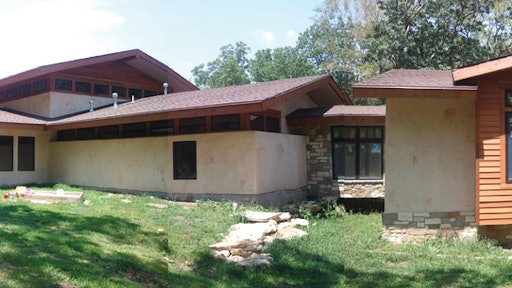 CertainTeed's EnergyEdge slab edge forming and insulation system recently helped homeowners Kendon and Suzanne Regier establish an energy-efficient foundation for the innovative and sustainable new custom home they built for themselves just outside Kansas City, Kan.
One of the key features in the couple's overall energy efficiency strategy was a hydro-radiant heated floor system integrated into the concrete slab foundation of the home. To maximize the performance of this system, it was crucial to prevent any heat loss through the edge of the exposed slab above grade. EnergyEdge provided the Regiers with an ideal solution.
"When we heard about EnergyEdge, it was an easy decision for us to use the product," says Suzanne Regier, a professional architect. "It provided an extremely cost-effective way for us to form the slab edge while simultaneously creating a protected, insulated edge to the slab. When we did a cost comparison to buying EnergyEdge or renting formwork, EnergyEdge was the clear choice. After taking so much care to insulate the home, it seemed counterproductive to neglect the slab, where a lot of energy could be lost."
Among the home's other energy-efficient features are high-efficiency wood windows with exterior cladding, low-emissivity double-glazing and large 4-foot overhangs to reduce solar gain in the summer. To reduce the need for electric lighting, all closets in the home have natural day lighting. The Regiers also installed a high-efficiency, EPA II-certified fireplace with powerful non-catalytic combustion heating to make good use of periodic tree trimmings from their heavily wooded surroundings. All appliances in the home are ENERGY STAR certified, and the Regiers are taking measures to reduce the home's water usage, including a large cistern that collects water from the roof for landscape irrigation and washing cars.
Though there are still some finishing touches left to put on the home, it was far enough along for the Regiers to move in last summer and gauge the thermal efficiency of their new home.
"Last winter, our exposed concrete floors were not ice cold as the slab-on-grade ceramic tile floors in the conventionally built duplex where we previously lived," Suzanne Regier says. "I can attest to the fact that our total energy bills last winter were less in our 3,500 square-foot new home than they were in the 1,700 square-foot duplex. I think these results will only improve once the radiantly heated floors are completed. I believe EnergyEdge has played an important part in our heating savings process."
EnergyEdge, consisting of PVC rails, snap-on braces and expanded polystyrene (EPS) insulation, is designed to prevent energy loss along the concrete slab edge. The rails come in 12-foot lengths and are cut using standard building tools to form a perimeter for the construction of the slab. EnergyEdge provides an R-10 thermal resistance value and meets International Energy Conservation Code (IECC) requirements. For more information, go to www.certainteed.com.