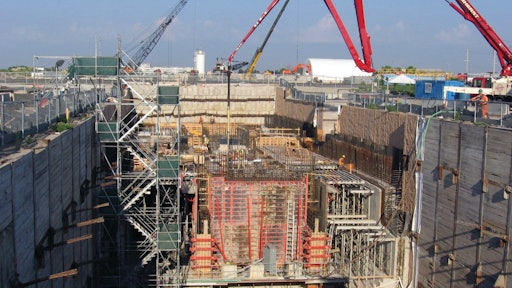 The Challenge:
Construct 1.6 miles of twin-tunnel subway track which includes placing 65,400 cubic yards of concrete for the new subway station.
The Players:
McNally Construction
Kiewit Construction
Aecon Constructors
Amherst Concrete Pumping, Inc.
The Process:
Construction of the first subway station for the Toronto-York Spadina Subway Extension (TYSSE) project is a C$2.6 billion project that includes constructing a 5.3-mile subway extension. The project is divided into six sections, with the C$279 million Sheppard West Subway Station & Southern Tunnels (Sheppard West) as the first station of the extension. The contract for this first section went to the joint venture of McNally Construction, Kiewit Construction and Aecon Constructors (MKA). MKA is responsible for constructing 1.6 miles of twin-tunnel subway track along with building an integrated subway/GO Transit rail station that includes a three-level, 110,000-square-foot structure.
Amherst Concrete Pumping, Inc. (Amherst), headquartered in Toronto, is the exclusive concrete pumping contractor for Sheppard West. Amherst has been pumping concrete at the jobsite since fall 2011 as part of the fast-paced 18-month schedule which requires the company to place 65,400 cubic yards of concrete for the new station. The structure is taking shape between two tunnels located just over a half mile apart from each other.
Building in layers

The overall construction process is divided into 150-foot-long sections and built in layers rising out of the 50-foot-deep excavated hole. Amherst is using Putzmeister truck-mounted concrete boom pumps to place the extremely harsh concrete mix while often operating at a low boom height to meet air space restrictions of a nearby airport.
The majority of the concrete being pumped for Sheppard West consists of a large 1.5-inch crushed stone with a low water-cement ratio, a mix that is common to Toronto but still almost unpumpable. As a result, the tough-to-pump 8,000- to 12,000-psi concrete places great demands on concrete pumps.
"Our Putzmeister fleet is equipped to pump the extremely abrasive mixes, and we have been able to keep the project on track. In fact, we're ahead of schedule as of this summer," said Paul Turney, equipment manager for Amherst.
Varying sizes of truck-mounted concrete boom pumps worked to pump the 3.5-foot-thick concrete walls around the hole's perimeter, a thin concrete slab or mud coat at the bottom of the hole, and place up to 1,570 cubic yards of concrete per pour to create raft slabs.
The 5-foot-thick raft slabs establish the foundation because of a high water table. For the substantially sized raft slab pours, Amherst typically dispatched three to four larger boom pumps - 52Z- and 63Z-meter models, capable of longer boom reaches up to 203 feet, 9 inches, to place the concrete exactly where needed. These models offered outputs up to 260 cubic yards an hour to maintain a fast pace. The pours were accomplished at night during off hours to ensure availability of concrete from the ready mix supplier and avoid busy street and air traffic times.
By using a ground bearing concrete floor slab as part of its construction, the raft slabs are ready for walls. The crew formed the 18-foot-high walls and a boom pump that pumped between 200 to 525 cubic yards of concrete using a tremie pipe raised in 3-foot lifts every hour.
The second section pumped was the elevated subway platform level consisting of the platform, walls and an escalator. The final section was the main floor and concrete walls which were finished above ground for the station's entry level.

In the spring of 2012, Amherst introduced a new Putzmeister five-section 42Z-meter pump to the jobsite.
"The 42Z's low unfolding height and five-section boom allowed us to unfold the boom and operate under the 100-foot height restriction of the nearby airport, while we could also attain longer boom reaches than possible with smaller-sized equipment," Turney said. "Prior to this five-section 42Z-meter joining our fleet, we could only use larger sized boom pumps when planes could be routed to other runways."
"The 42Z has a compact outrigger footprint as well a short stowed length that is about 7 feet shorter than similar model sizes. So we can set up in a really small spot and still have room for ready mix trucks to discharge two at a time," Turney said. "The boom can access difficult-to-reach areas as its five-section Z-Fold configuration allows it to maneuver around obstacles within the structure's highly detailed design."
The Sheppard West Station has an estimated completion date of April 2014, while the entire TYSSE project is targeted for completion in late 2015.