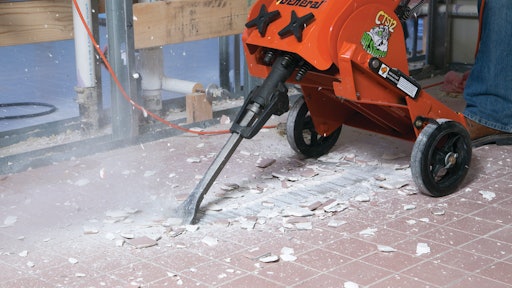 Floor-covering demolition contractors have long had their work cut out for them. Over the years, some new technologies have increased the efficiency of removing tile, hardwood and other tough floor coverings. However, there are still many applications that require contractors to get on their hands and knees, using a rotary hammer to slowly chip away the covering.
For Mark Jones, president of Commercial Tearout Services, and his crew, a large percentage of time was spent on their hands and knees. Understandably, this took a toll on their bodies, as well as the company's efficiency. Eventually, it led Jones to experiment with a new technology to speed up the process and put the hand-held rotary hammer down for his floor-covering removal jobs.
Based in Spokane, Washington, Commercial Tearout Services has been in business for 16 years. Jones has a partner and, together, they employ two part-time workers. The small company specializes in the removal of non-hazardous floor coverings, which includes basically all materials that don't contain asbestos. "We remove glue-direct carpet, sheet vinyl, ceramic tile, vinyl composition tile and wood flooring," said Jones. "Occasionally, we remove specialty floor coverings, too."
Watch a video about the General Equipment CTS12 Rip-R-Stripper
Like most other demolition contractors, Jones hopes that most of his jobs will allow him to use an electric-powered ride-on machine that the company owns. The machine is equipped with a front-mounted, two-inch-wide carbide blade, which is designed to quickly knock up tile. However, the unit weighs approximately 2,000 pounds. Therefore, Jones is limited to using it on slab-on-grade floors and other levels that can be easily reached by elevator. Additionally, the machine is not well-suited to maneuver in small rooms, despite its compact design.
Equipment allows contractors to get off their knees
Jones' main frustrations arose from a job at a local Air Force base where he was removing tile from a dormitory floor. "We've been removing tile at the dorm buildings over the last three years," he said. "We've been awarded the contract every year."
Unfortunately, the dorm buildings didn't accommodate the company's equipment very well. Of the five floors in each building, only two of them could be accessed with the ride-on machines. Therefore, Jones and his crew used hand-held rotary hammers to remove tile from the remaining three floors. After taking up the tile with rotary hammers, the team would then run a diamond grinder over the area to flatten the surface. "There are about 4,000 square feet of tile per building," said Jones. "That's a lot of square footage to do on our hands and knees."
One day, Jones heard of a new type of tool carrier on the market, claiming to offer a solution for this age-old problem. The new tool carriers are designed to hold electric-powered breakers rated in the 35- to 45-pound class, which offer the direct-impulse force needed to break through the bonding material between the floor covering and the surface. The carriers bear most of the weight of the electric breaker, taking the heavy burden off the operators and allowing them to work from a comfortable upright position. The units also offer easy adjustment of the blow force angle for achieving maximum effectiveness.
The timing of Jones' discovery worked out well, as he had an immediate need for the solution. "I was really looking for something because I knew we had another project coming up at the airbase," he said.
Luckily, Jones was able to track down a rental store a couple hours from Spokane that had a CTS12 from General Equipment Company available for him to use. "The fact I was able to rent one first was a big plus," he said. "A guy doesn't want to spend money on something and find out it isn't going to work."
As hoped, the new solution made a major impact in Jones' operation. "It got everybody off their hands and knees," he said. "It definitely changed the whole game plan."
In fact, Jones determined that the machine could remove tile at least twice as quickly as hand-held rotary hammers. "When we first used it at the base, I think we took up between 1,600 and 2,000 feet of tile," he said. "The machine hits so much harder than a rotary hammer and, because of the way the breaker sits in the carriage, the operator doesn't need to manhandle it. Also, being able to adjust the angle is equally important because the operator works at so many different angles to stay underneath the tile without digging into the slab."
In addition to working quickly, the machine offered ergonomic advantages to the crew. "It takes a lot of load off your knees and back, so an operator can run it for longer periods of time," said Jones. "And because you're standing up, it keeps your eyes and ears farther from the operation, instead of having your face 16 inches from the floor."
Because of his success renting the equipment, Jones purchased his own CTS12 in May of 2012, along with a Bosch 11335K electric breaker to use in it. "I put in an order for one even before I returned my rental unit," he said. "It showed up about three days before we had to go back to the airbase, so I didn't have to spend money on renting one again."
Owning a CTS12 has allowed Jones to realize its full potential and understand the best applications for the product. "We've used it in areas accessible by ride-on equipment, just to see how well it would work on different types of tile," said Jones. "And there are times when the CTS12 is even faster to use than our ride-on equipment."
Even after putting the machine to heavy use on multiple jobs, Jones still has some experimenting to do with the unit. Besides the airbase, he has used it in a hotel and a local spa, and he's excited to try even more applications. He said, "I'd like to try it on quarry tile, because that's the toughest tile to remove by far."
Despite the benefits Jones has experienced with the new product, it doesn't replace his existing tools. "We still have to use hand-held rotary hammers in tight quarters," he said. "The CTS12 is great in open areas, but it is too long for some small commercial bathrooms and closets."
Nonetheless, for the applications that are well-suited for Jones' CTS12, he is extremely satisfied with the amount of time he has saved and the stress he has alleviated on his crew. In fact, the machine seems to be the perfect complement to the ride-on equipment and hand-held rotary hammers he already owns. "Every time I've used it, I've prayed because I'm so glad to have it," said Jones. "It makes a big difference.