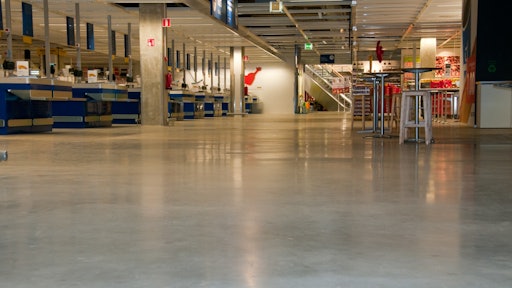 PrimeComposite is a jointless flooring system, allowing contractors to eliminate control joints and the  downsides to existing flooring technologies including cracks, curling joints and uneven surfaces. Thanks to a partnership between the Schaumburg, Illinois-based The Rabine Group and the Latvian company, Primekss (pronounced prime mix), a jointless, virtually maintenance-free floor can now be realized and The Rabine Group will be the first company in the North American market to make this product available.
"We'd like to think that PrimeComposite could be considered the 4th generation of flooring systems," says Scott Haislip, a 30-year concrete industry veteran and vice president of Operations and Engineering at The Rabine Group. Haislip says the first generation of flooring systems was the jointed floor, still being designed and constructed today. Technology advancements led to the second and third generation of flooring systems — shrinkage compensation floors and macro synthetic fiber floors.
"PrimeComposite is a combination of the shrinkage compensation floors and high strength steel fiber floors," explains Haislip. "Building owners and managers tell us the joints are their biggest and most expensive problem when dealing with their current flooring system. Installing a concrete floor with no joints allows for continuous productivity of fork lift traffic and will reduce costly future maintenance in industrial facilities."
How it's made
Three components make up the PrimeComposite material:
Anti-shrinkage concrete additives
High concentration, high-performance steel fibers
Total Quality Management
With conventional concrete application, in the first seven days, shrinkage and cracks form in the saw cuts. From seven to 150 days, shrinkage continues — joints open from the initial 3 mm width to 6-10 mm width and curling starts to occur.
Within the same parameters, PrimeComposite Concrete produces a suspension of shrinkage during the first seven days. Research conducted during the development phase of PrimeComposite showed zero shrinkage after 150 days.
"Using proprietary chemical additives the shrinkage is virtually eliminated because of the expansion mechanism," he says. "The result of the custom mixture results in no curling or shrinking. In fact, the concrete will expand over the drying time."
Steel fiber reinforcement
To offer improved tensile strength, a high concentration of engineered steel fibers is evenly dispersed throughout the concrete, approximately every 0.5 in. Fibers are added to concrete ready-mix trucks onsite using custom manufactured fiber integration machine. This machine blows the fibers to the front of the mixing truck, allowing the truck to mix from the front to the back, ensuring even distribution.
"As the concrete cures, it expands which makes the slab try to lift up, but cannot because of subgrade restraint and high unit weight," says Haislip. "The steel fibers however, help the floor to remain flat and curl free. The fibers restrain movement, putting the concrete slab into compression."
Total quality control management
The third and final component to PrimeComposite is Rabine's quality control system. A complete quality control management system begins the minute the ready-mix truck arrives on-site. Haislip says, quality control includes testing and the monitoring of the trucks during all phases — managed on fully integrated IPads.
"We do this because it eliminates potential problems before they happen because all aspects are controlled from concrete mix design and testing," he explains.
Quality control is conducted through a series of checklist-based procedures, with in-house laboratory and testing. "The process we have set-up ensures real-time work execution data from the jobsite," he says. "The systematic checklist approach forces workers to follow requirements. This provides an opportunity to follow work processes from a distance and is an additional tool for work process analysis and improvement."
Haislip says the quality monitoring system is an opportunity to discover correlations between long term follow-up data and execution process as well as provide immediate feedback to clients and the concrete producer, thereby improving profitability.
Ecologically friendly
For owners and contractors looking for a sustainable, ecological friendly product, PrimeComposite will fit the bill. According to Haislip, when using the PrimeComposite material, there is a significant reduction in CO2 emissions. Traditional slab construction requires a thicker slab construction, which equates to more cement consumption and increased CO2 consumption. Slab construction with PrimeComposite allows for a thinner slab, equating to less cement consumption, reduced natural resources needed during production and a reduced CO2 output.
Technology and research continues to impact the process and materials of slab on ground construction. With the introduction of PrimeComposite to the North American market, concrete contractors now have another option when choosing a flooring product for optimized concrete floors.
Ed. Note: In the next issue, we'll take a closer look at PrimeComposite material as it's put to use in a project, the first of its kind using this material in the Midwest.