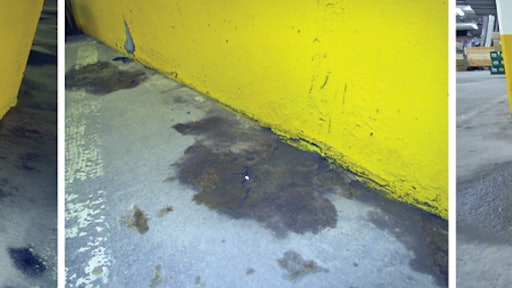 Everything about the Kista Galleria in Stockholm, Sweden, mall is big. It features 180 shops and restaurants, including high-end boutiques, national retail chains and local shops. There is also a multiplex movie theater, a bowling alley, a dentist and even a daycare facility and fitness center. Not surprisingly, it is one of the most popular malls in the country.
Recently, the Kista Galleria added a new attraction: O'Leary Go-Karts, located in the basement level of the mall. However, there were challenges to overcome before the sublevel go-kart track became a reality. Robert Moen, CEO of PEN-TEC Nordic AB, the Scandinavian distributor for PENETRON, describes a daunting situation. "Initially, the mall had about 4,500 square meters of basement space on the third underground floor, which was below the water table. There was ground water seeping in through the walls and the basement slab. We were looking at wet floors, moldy walls and a foul stench everywhere. The room was unusable."
After an initial consultation, the PEN-TEC team was commissioned to do a full-fledged treatment of the basement using PENETRON crystalline technology.  They were given only two months to rehabilitate the entire space. The work began immediately and followed a clear sequence:
Concrete walls were cleaned and prepped for application of PENETRON.
Concrete floors were cleaned and all joints and cracks were opened 3cm (width and depth).
PENECRETE MORTAR was applied to all the concrete joints.
PENETRON was applied to the walls and floors and allowed to cure for several weeks.
The PENETRON crystalline technology used in the Kista Galleria basement penetrated into the wet concrete substrates, the crystals responding to the moisture by growing into all cracks and capillaries throughout the structure and becoming an integral part of the concrete. After about two months, the basement space, now sealed against any further water ingress, was completely dry and – thanks to the PENETRON System – will remain dry over the life of the structure.
"There's an added bonus that the PENETRON technology is NSF-61 certified and completely non-toxic, safe with no noxious gases or VOC emissions," adds Moen. "We have treated numerous water storage facilities and other sensitive facilities across Northern Europe with great success."
Today, Europe's most modern go-kart track (on 4,000 square meters) has the latest electric karts running laps at speeds up to 70kmh (45mph), while spectators enjoy the action from the adjacent bar.
"Even applied to the negative side of the concrete substrates, PENETRON crystalline technology has proven its effectiveness in situations identical to the waterlogged basement in Stockholm," adds Robert Revera, President and CEO of The PENETRON Group.  "We're proud to be part of such success stories all across Scandinavia."