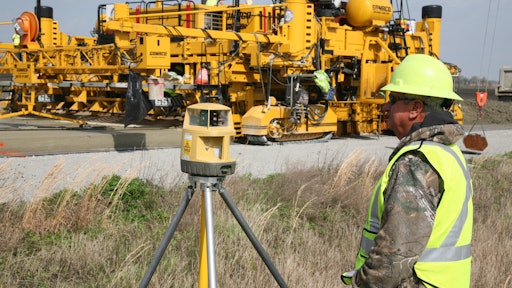 The challenge:
Pave a new 26-foot-wide concrete highway over fertile soil that holds moisture well — not ideal for a concrete highway
The players:
Arkansas State Highway and Transportation Department
Weaver-Bailey Contractors Inc.
The process:
Over the years, U.S. Route 67 has become a relatively heavily traveled route, which has required maintenance, rehabilitation, and in some cases newly developed stretches. In 2013, the Arkansas State Highway and Transportation Department let a project for construction of a section of the new location of Route 67 which runs roughly from west of Cash, Ark., north to Walnut Ridge, Ark. The project creates a two-lane divided highway in the new location, which will replace the original single-lane highway.
Weaver-Bailey Contractors Inc., El Paso, Ark., won the project and became the general contractor on the $20 million 9.9-mile section. The project commenced in January 2013 and is expected to be completed by year's end 2015.

"This is brand new roadwork being constructed on former farm land," says Roger Weaver, paving superintendent with Weaver-Bailey Contractors. "It's a challenge since the fertile soil really holds moisture. The ground is great for planting crops but not so great for planting a concrete highway."

This past winter was mild for the area. Nighttime temperatures could fall into the 20s Fahrenheit, but during the day the temperatures would typically rise into the 40s Fahrenheit. According to Weaver, these were temperatures they could work in and pour concrete when it is high 20s Fahrenheit or warmer.

The new concrete highway measures 26-feet wide — two 12-foot wide lanes and a two-foot shoulder on each side. Weaver-Bailey completed the highway with three layers: a cement-stabilizer base, a thin asphalt interlayer and a surface layer, using a 14-man crew.

The six inches of cement stabilizer functions as a sub-base layer reinforcing and protecting the subgrade. The 368,838 square yards of cement stabilizer was rough graded with a dozer and finish graded with a motor grader — both equipped with machine control.

"We want to ensure accurate grade and no material waste so we use Topcon 3D-MC2," Weaver says. "We've been using GPS machine control for some time in our dirt work so we're familiar with its accuracy and production speed, which we're also seeing on the paving side as well."

Weaver-Bailey works with both TrenchSafety and Supply Inc., based in North Little Rock, Ark., and Topcon to match the technology to their need.

"They're familiar with the benefits of machine control and have been using systems on their dirt machines for years, so it was natural for Weaver-Bailey to migrate into paving," says Steven Simon, TrenchSafety and Supply vice president/branch manager for the Memphis and Little Rock locations. "Along with Topcon and GOMACO, we performed the install and training on their GOMACO GHP-2800 slipform paver — they got up to speed quickly."

"This was a new machine and application for Weaver-Bailey so it was essential that GOMACO and Topcon were united for the start-up and training" says Brian Lingobardo, systems manager-3D road construction for Topcon. "Also, because of Weaver-Bailey's strong understanding of Millimeter GPS and the skill set of the crew, paving with 3D has been a success."
A significant benefit, according to Weaver, is that with machine control the project does not require stakes and the surveyors to place them.

"We save considerable time and surveyor expense during all phases of the project by having the constant of the data points and design within the system," says Weaver. "It is so much easier not having to worry about running over stakes and then replacing them when it inevitably happens. A major plus is having no stringlines in the way."

A subcontractor placed the one-inch layer of asphalt interlayer. The bond breaker asphalt lift separates the finish overlay concrete from the cement-stabilizer pavement underneath. It is designed to provide support for the overlay.

"We want the finished road surface to be very smooth. That's why it's critical that the cement stabilizer and asphalt interlayer surfaces are graded to tight tolerances," Weaver says. "Then, to ensure we have the smoothest concrete surface, we used Topcon Millimeter GPS technology on our GOMACO slipform paver."

The company used a four-track GOMACO GHP-2800 slipform paver equipped with a Topcon 3D paving system on the U.S. Route 67 project. The paver features IDBI in-the-pan dowel bar inserter, paving 23.8 feet wide, inserting 23 bars across the slab, 11.8 inches apart.

"The machine's operating system with stringless technology benefited us greatly in lower costs, higher production and better results," says Weaver. "We've been using 3D paving for the past two years and like that we get real-time navigation with direct access to the design data from our CAD project model. It accommodates radii and super-elevations automatically."

Topcon's Millimeter GPS Paver System controls the lift cylinders independently. The machine operator has access to critical information. The GX-60 control box in the GOMACO paver's operator compartment features a color, graphical screen display of machine position on the job, and the receivers being used to control the left and right side of the mold, and current elevation and slope.
A 10-inch thick finish surface layer of PCCP (Portland Cement Concrete Pavement) concrete was poured using standard Class A3 concrete. The nearly 20-miles of paving will require 319,220 square yards of PCCP concrete. Other than delays from rain, "the pour," according to Weaver, "is going smoothly, giving us the smooth road surface we are after."

Years from now, Weaver and his crew will be able to look at an Arkansas highway map and know that they constructed this re-routed new two-lane divided highway section of historic U.S. Route 67 from farm field to smooth concrete pavement.
Jeff Winke is a business and construction writer based in Milwaukee, Wis. His portfolio can be seen at https://jeffwinke.contently.com.
Companies in this article