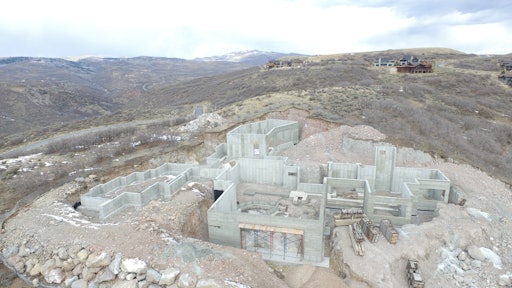 The "Great Recession" now firmly in the rearview mirror has left an indelible fingerprint on today's concrete contracting company. This fingerprint evidences the extreme resiliency of the American concrete contractor when everything is on the line. It also evidences, through such resiliency, the creativity to apply experience and ability toward new, unique work when necessary. In the end, it is often this uniqueness that becomes a new expertise and ultimately supports new architectural trends.
Grand Project of the Year: The Nowak Residence – SCW Footings & Foundations
Single Family Residence Foundation > 5,000 sq.ft., Salt Lake City, Utah
Taking the top honors in this year's CFA Projects of the Year competition is a large residential foundation combined with above-grade concrete features set in the Salt Lake City, Utah region. The project is one in a cascading series of projects evidencing a transformation of style, construction practice and collaboration for the team at SCW Footings & Foundations. President and CEO, Kirby Justesen talks candidly about the maturation of a more architectural trend for the residential concrete in his market. "This residence is really one of a great many we've had our hands in over the last several years," states Justesen. "The architecture in our market has changed to a contemporary or more modern style. We have been working hard to transform our business to be responsive to the desires of the home owners and collaborative with architects to achieve constructions we believe are much more timeless."
Natural concrete, while easily considered a more brutal or raw form of architecture from the Post Modernism period, is proving to be the signature form and finish to simplify residential structures and create a strong, warm and aesthetic framework for the living spaces. Justesen and the team at SCW have delved into the forming and patterning of concrete in new ways to remain economical with their modular forming systems while optimizing the architectural creativity of concrete.
"The Nowak residence implemented board form as a selected concrete finish," continues Justesen. "This is one finish we have put considerable effort into since the recession to achieve greater variety and creativity." After much work developing the technique and perfecting the process of selecting and preparing the wood for the forming process, they began small and have progressed to some very impressive concrete works with an exposed board form texture on the interior as well as exterior, below and above grade.
"This was certainly a complex job this past year based on sheer size and square footage alone," states John Graber, estimator for SCW. "However, when you add in the board formed concrete throughout the entire project, it more than doubles labor time for the project and is complicated by things like wood source and quality. The best way to overcome these challenges were to make sure everything and everyone was on the same page regarding schedule, final expectations as well as communication."
The Nowak Residence consists of technical challenges including multiple footing steps, accounting for a total of 34 feet of vertical change in footing elevation throughout the project. These footings total 1,024 linear feet of continuous ranging from 24 inches to 48 inches wide and many 36 inches square up to 96 inches square footing pads, all with cast-in-place moment frame base plates. Not surprisingly, due to the extreme elevation changes, this project has 15 different wall heights and six different wall thicknesses throughout.
With these walls, the biggest factor by far, for complexity, was the application of the architectural board form finish. All exterior exposed faces of the foundation wall were designed to receive the board form finish. SCW individually stapled over 3,000 square feet of four inch, six inch, eight inch and 12 inch wide pine planks to achieve an enhanced wood grain texture in the concrete. The finished aesthetic became the signature statement in the interior design for the home owner.
When asked about the approach to this project specifically coming from the culture of their company, Graber had this to say; "When we were awarded the job, we immediately placed one of our best project managers in charge of the project, one with a vast knowledge of complex jobs and who was instrumental in our board form application. We assigned our best crew leader and crew to the job to ensure consistency. Technically, the project was re-drawn in house in CAD, per the architect's plans, in order to prepare for layout; determine wall heights; and create schedules for all bucks, blockouts and any straps, bolts, embed plates, etc. out the top of walls. When we got into the field, this CAD preparation led directly to extremely accurate layout using the Leica Geosystems (CFA Member) iCONstruct robot/software. The project was scheduled weeks in advance to ensure that all parties were prepared and ready."
The Nowak Residence was selected as the Grand Project of the Year by popular vote through CFA's website at www.cfawalls.org. It also was the winning entry in the Single Family Foundations > 5,000 square feet. This project was also selected at the World of Concrete as the Best in Show for 2016 by visitors to the CFA booth.
The Nowak Residence Project Specifications:
Size (Total Lin.Ft.): 1,082
Size (Total Sq.Ft.): 8,408
Walls (Total Yds.): 450+
Footings (Total Yds.): 200+
Walls (Total Steel): 450+
Footings (Total Yds.): 200+
Walls (Total Steel): 47,000 lbs.
Footings (Total Steel): 5,700 lbs.
Wall Heights (Ft. and In.): 4' – 20'
Wall Thickness (Ft. and In.): 8" – 24"

Howell Mill – Herbert Construction Company
Commercial Structure — Atlanta, Georgia
Since 2010, companies have been submitting commercial projects to the CFA's annual Projects of the Year competition to evidence the growth that has occurred of cast-in-place foundation technology and expertise throughout those larger or broader markets. Often awarded are very large and deep, as well as challenging foundation systems in urban settings. This year, popular vote has selected a strong architectural application for cast-in-place concrete for Howell Mill. Submitted and constructed by Herbert Construction Company of Marietta, Georgia, the project consisted of concrete work on two separate buildings within a retail and restaurant complex, including an exposed concrete wall with a challenging arched opening.
The first building required highly technical work from the Herbert Construction team to achieve an architectural concrete wall serving as the focal point of the entire project. "The architect and owner were very specific about the look they wanted for the architectural wall," states Amanda Morris, Vice President of Operations for Herbert Construction Company. "We chose an MDO plywood forming system to form the wall and accessed the experience of our firm's Vice President of Construction, Mike Herbert, to lead this method. Forms for each wall section were built on the ground and tilted up into place with our boom truck. A form tie hole pattern was selected to provide an aesthetic, uniform appearance."
One side of the concrete wall will be experienced as shoppers ascend a stairway attached to the wall. The other face of the wall will be seen at the pedestrian level by visitors to the complex. A large, 12 feet, two-and-one-half inch radius opening was created in the 18 foot, six-inch tall architectural wall, which restaurant-goers will walk through to enter the trendy restaurant on the ground floor.
Squeezed into a very tight location, the second building involved concrete footings and walls to create a Terrace Level foundation. Herbert Construction was required to shore the existing soil to allow for a safe working area for crews. The main level floor itself consisted of concrete placed on metal decking. This floor is supported by 168 linear feet of continuous angle cast-in the top of the 12 foot tall wall. The wall also contained 18 embedded beam plates in the face of the wall, and 80 anchor bolts in the top of the wall for steel columns as well as a cast-in door frame and three window openings.
Placing the concrete for these walls was challenging as both consisted of double mat steel reinforcement bars and vertical contraction joints with waterstop. "We consulted with the general contractor through several variations of this project over the course of two years," states Doug Herbert, President of Herbert Construction Co. "Once the development was finally released for construction, he knew we were the ideal concrete contractor for this type of project."
The hard work paid off and while not as large as some commercial projects receiving recognition in this program or seen throughout the industry as a whole, this was a highly technical project. "This project required more pre-planning than projects we've done that were many times larger," states Morris. "The general contractor, architect and owner were all extremely happy with the appearance of the architectural concrete wall that we constructed. The architect stated that it was the best architectural concrete wall he has seen, and asked us to look at other projects in his pipeline, including a project in Florida," states Herbert.
Howell Mill Project Specifications:
Size: (Total Lin.Ft.): 219

Size: (Total Sq.Ft.): 1,800

Walls: (Total Yds.): 106

Footings: (Total Yds.): 25.5

Total steel (Footings and Walls): #4 – 9,303 lin. ft.; #5 – 8,975 lin. ft.; #6 – 305 lin. ft.

Wall Heights:   (Ft. and In.): Five total from 9'-3" to 18'-6" (sloped down to 6'-4")

Wall Thickness: (Ft. and In.): Four total from 8" to 16"

Delp Foundation – Custom Concrete Company
Single Family Residence Foundation 2,000 to 5,000 square feet — Greenwood, Indiana
The average size home in the United States last year reached 2,600 square feet according to the Census Bureau. Receiving the popular vote for top residential foundation in this size range, however, was a project that certainly can't be considered average or ordinary, the Delp Residence completed by Custom Concrete Company out of Westfield, Indiana.
The signature for this foundation project is quickly evident in the four walls with radius sections, all having significant dimensions, the largest radius which was 270 degrees. "The biggest challenge we face on these projects is always the difficulty of the layout and forming for the radius walls," states Jason Ells, Executive Director of Operations for Custom Concrete. "We find it essential to start with good, consistent communication on the project and developing our own thorough CAD drawings. These allow us to communicate any issues effectively with the project team and ultimately send clean CAD prints and points for the robotic layout system out to the field."
The walls for this residence were not just a series of straight lines and curved connectors. The walls were also designed with multiple steps and with varying brick ledge or wall thickness recess heights. A total of 169 layout points to achieve the layout were produced and delivered to the site efficiently with the company's robotic equipment.
"We were referred this job based on our commitment to quality and consistency," states Ells. "We approached it with the same scrutiny and quality control that we do each and every project. When we were all taught to 'measure twice and cut once', we take that to heart and make sure that every move is planned, calculated and double-checked to make sure it is delivered intentionally for a satisfied customer."
Delp Foundation Project Specifications:
Size (Total Lin.Ft.): 841

Size (Total Sq.Ft.): 4,846

Walls (Total Yds.): 136

Footings (Total Yds.): 68

Walls (Total Steel): 3,300 lbs.

Footings: (Total steel): 2,800 lbs.

Wall Heights (Ft. and In.): Nine total from 2'-4"to 13'-0"
Wall Thickness (Ft. and In.): Seven total from 8" to 20"

Honorable Mentions
This year, two additional projects were selected to receive honorable mention from the popular voting taking place at both the World of Concrete and online through the CFA's website. Those projects were both single-family residential foundations in the > 5,000 sq.ft. category submitted by Doggett Concrete (Kingswood) and Herbert Construction Company (Private Residence).
More Information
"CFA Projects of the Year" is an exclusive and free opportunity for members of the Association to submit and display their pride in quality of design, craftsmanship and achievement. Projects are submitted each winter for presentation by popular vote at the World of Concrete and online. For more information on these projects, visit the "CFA Projects of the Year" at CFA's website, www.cfawalls.org under Recognition, where you will find more images and facts for this year's winners, the historical archives for the competition and information on the competition itself including voting basis and entry guidelines.
If you would like more information, please contact CFA Executive Director, James Baty, phone (866) 232-9255 or jbaty@cfawalls.org.