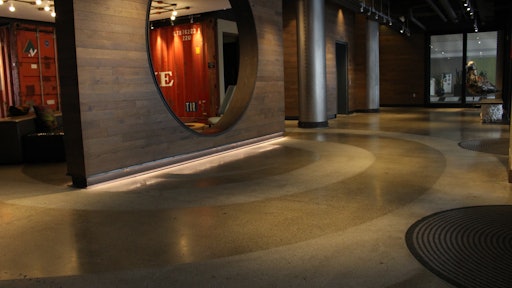 The city of San Francisco is in constant movement as the technology hub of the world, and the crown jewel city of Silicon Valley. With this coveted distinction also comes world-class architecture and construction projects. The office of Jett Landscape Architecture + Design, and specifically the founder Bruce Jett, was called upon by the developer to create an updated hotel venue that would integrate the unique aged and nautical spirit of Fisherman's Wharf and also add a touch of elegance, appreciated by the younger technology crowd that frequents San Francisco. The old hotel was the Radisson Fisherman's Wharf and the new hotel has become the Zephyr Hotel.
Jett is a renowned San Francisco Bay Area Landscape Architect and he immediately called upon his friend Michael Price, the owner of Bay Area Concretes (BAC) and PolishedCrete, to help him turn his architectural design vision, into a beautiful concrete hardscape. Jett and Price have collaborated on exceptional architectural concrete designs and projects for the past 20 years. These men are both pioneers of new concrete products and technologies, in that Price brings new ideas and products to market while Jett and his team design them into real world developments. Bay Area Concretes typically installs the vision. This collaborative formula has worked well for them for years and thus here again an artistic idea has once again materialized into an award winning concrete project.
You will notice creativity and originality in concrete are present throughout this project. Jett wanted to achieve the look of worn nautical and distressed seaside paving elements within a unique and warmly inviting hardscape interior courtyard. He also wanted the exterior to flow well into the interior environment and vice versa. He designed abstract shaped concrete walls throughout the project, which would have a distressed seaside appearance, yet be structurally sound and uniquely artistic in final appearance. The Bay Area Concretes team worked for several weeks to develop the look and finally came up with a means and method to achieve the distressed walls.
"We used a variety of surface retarders and carrying vehicles for these retarders, that were integrated into the form work of the walls. Many mock-ups were constructed in our shop to create the effects," Price says. "Bruce had explained the wall look he was after as "Distressed Beirut" to me and only because of our long history together was I able to envision the look he had in his mind."
The hardscape utilized the exceptionally diverse and patented product called Aggretex. Aggretex is a bagged mix architectural concrete product that can be blended with special sands, exotic aggregates and glass aggregates to create any look in concrete, that a designer can visualize. Aggretex surfaces can be exposed, ground, or polished. To continue the seaside-distressed theme into the hardscape, Bruce and Mike used Aggretex to provide both subtle colors in four to five different tones, and more importantly an aggregate/sand tip exposure blend that would be predictable throughout the project. The technique used to expose the Aggretex pre-colored surfaces was the EcoSand system. This is an environmentally friendly system of surface exposure utilizing surface abrasion machines or grinders and hepa filtered vacs to eliminate the need for a sandblaster on newly placed concrete projects. This final finish look was this time described to Price by Jett, in early design collaborations stages as the "acid washed jean look". To achieve this look the BAC team again went to work in their R and D laboratory and went through countless poured concrete samples until they achieved the approved look. With the EcoSand finish system. You will notice that this look is integrated into the hardscape, in many areas, taking the form of a family "Board Game" of different checkered paving colors, that create a meandering pathway pattern within the enclosed courtyard hardscape paving. This effect was achieved via randomly splashed liquid retarders in different levels of reveal, during placement of the Aggretex paving types. Topcast and Solomon-Brickform's Surface Deactivator were the retarders of choice, on this particular project, and used with the EcoSand exposure system. In addition to these concrete surface-revealing techniques, BAC used certain custom architectural tooling to abrade the concrete surfaces of both the walls and hardscapes, to different artistic levels and in small controlled areas. Some of these tools are available through Engrave-A-Crete and specifically the BAC Artistic Team used the both the Barracuda and the Wasp concrete engravers. Mike Price proudly states that "Exceptional communication and extreme detail is the key to success, in any architectural concrete project".
Bay Area Concretes is the only remaining original Bomanite stamped concrete paving contractor, in the world, and has been stamping concrete with the Bomanite brand since 1966 – longer than anyone stamping concrete today. As such, Michael was able to convince Bruce and his design team to integrate a small amount of Bomanite stamped concrete, into the Shuffle Board game location of the exterior hardscape. There is actual ShuffleBoard woodwork in the middle of the board game location (see Picture), and then a Bomanite Boardwalk Plank imprinted concrete around this area. Bay Area Concretes used QC Durango Tan, Color Hardener in this area flashed with several other similar color hardener tones to create a natural looking and permanent stamped concrete "wood" surface. Michael Price says his two "go-to" brands of Color Hardener are QC Construction Products and Brickform and that these leading labels are used in 90 percent of his stamped concrete projects.
In addition to the beautiful exterior hardscapes, you will also notice there is beautiful polished concrete, that flows from the interiors of the Hotel. The polished concrete was installed by Mike's other company PolishedCrete. PolishedCrete was created by Mike in 1999, just when diamond polished concrete was simply an idea and only being installed on a limited basis. Mike saw the opportunity to help create the next big market in architectural concrete finishing, just as they had done with the Bomanite stamped concrete model, back in the late 60's. Since then, PolishedCrete has grown into the largest Union Labor concrete diamond polishing company in the nation. PolishedCrete employees SASE grinding machines along with some HTC and some Innovatech Diamond Grinders and Polishers, among others.  Blastrac plays a large role withing the PolishedCrete business as well as they employ several models of bead blasters. At PolishedCrete the go-to vacuum equipment is typically manufactured by Ermator.  
The unique graphic effect that is depicted herein, was applied over the diamond polished final concrete finish. PolishedCrete utilized the Prosoco Consolideck LF Densifier and LSGuard to provide the lobby and inside gaming center with an 800 grit level diamond polish. The concrete surface was ground to a medium level, honed, refined, and polished to perfection. In addition, the PolishedCrete Team working with Jett Landscape Architecture + Design created a whimsical graphic that resembles a "swirl" effect within the polished concrete surface. This artistic technique was achieved utilizing a product by Skudo USA called "HT". This is normally a protective mat for polished concrete surfaces and other architectural concrete finishes, during construction. However the PolishedCrete team saw an opportunity to use this material as a graphic sandblast template material, which in turn created a beautiful artistic and undefined frayed edge to the actual concrete graphic. Once the whimsical swirled graphic was in place the PolishedCrete team employed a Blastrac 10" self propelled shot blasting system to create the differential in surface texture from the 800 grit level Diamond Polished Concrete, in the shape of the graphic. The final result is both unique and stunning and carries to the Aggretex exposed EcoSand exterior paving area seamlessly.
BAC hopes to win several awards surrounding this project on the paving side and Jett Landscape Architecture + Design hopes to win awards on the design side of the equation, in the coming months. Michael Price states, "Bay Area Concretes is currently enjoying our 50th year in business and the limits to architectural concrete design seems to have less and less boundaries with each passing year."
Companies in this article