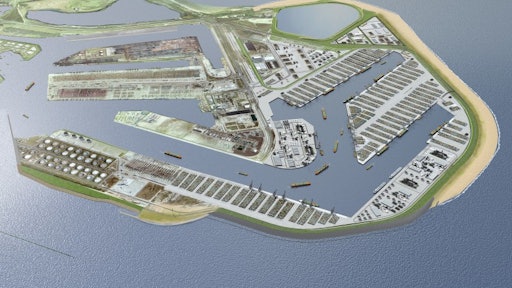 Four hundred and ninety six million short tons. That's the weight of the cargo that flows each year through Europe's biggest port, Netherlands' Port of Rotterdam. It's the equivalent of more than 283 million cars or about 2.3 million diesel-electric locomotives.
With more than 140,000 vessels transporting goods to the port annually — an average of 383 ships per day — the 26,000-acre port reached its maximum shipping capacity. The Port of Rotterdam Authority, the port's governing body, sensed the urgency for the expansion and began planning for a new harbor.
The new Maasvlakte harbor, dubbed Maasvlakte 2, required several construction phases, including reclaiming a portion of the North Sea for the 6.8-mile seawall, and building shipping terminals.
Reclaiming a portion of the North Sea for the 6.8-mile seawall posed a significant undertaking. Contractors extracted more than 261 million cubic yards of sand and dredged the seabed to make room for the seawall and shipping traffic. And they protected the harbor and beach from tidal waves by building new seawalls, the highest being 46 feet above sea level.
Contractors built two seawalls — one hard, one soft — to protect the harbor. On the northwest side of the harbor, the 2.2-mile-long Maasvlakte 2 hard seawall required nearly 20,000 concrete blocks and quarry stones for its construction. Contractors placed large concrete blocks, weighing about 44 tons each, at the foot of the hard seawall. To form the sides around the sandy core, they used 2- to 4-inch diameter stones on the seaward side to minimize erosion and covered the landward side with clay and a layer of grass.
The 4.6-mile soft seawall, built on the west and southwest side, consisted of a beach with 46-foot high dunes planted with marram grass to minimize wind erosion. The south side of the seawall features ideal areas for beach-goers and a permanent building for lifeguards to observe swimmers.
And what would a new port be if not for the infrastructure to support it? Around the harbor, contractors built a road, railway line, bicycle path and utility infrastructure. Further inland, contractors built the project centerpiece – the wharves for loading and unloading containers. As part of this, the port authority required a hard-working, concrete-drilling company capable of producing 800 to 1,000 holes per day to stay on schedule.
That's where BEMO Betonboor & Zaagtechniek, a concrete drilling and sawing company, came in. Its crew drilled about 180,000 holes using E-Z Drill's slab rider concrete dowel drills during the three-year project without missing a beat and staying within the port authority's timeline.
"This project required drilling a massive amount of holes, which is why I needed extremely robust and reliable concrete dowel drills," Karel Van de Moosdijk, owner of BEMO Betonboor & Zaagtechniek says. "For many years, my crew used handheld rock drills, which are effective but cannot complete thousands of holes per day with the precision and speed of E-Z Drill units. And if we were to use rock drills, I'd need additional workers because of the slow speed and that would increase project costs."
Van de Moosdijk selected a diverse fleet of E-Z Drill's 3-gang and 5-gang slab riders. These drills feature auto alignment systems to allow operators to re-position the units quickly for maximum efficiency on the project — a key feature when drilling nearly 1,000 holes per day. And the quick-release bit guide made replacing worn drill bits and bit guide bushings simple and fast.
Working under the port authority's environmental requirements put added focus on air quality in addition to the deadline. E-Z Drill's concrete dust collection system provided the ideal solution. The system includes a dust boot that mounts to the end of the bit guide, and it gathers the dust directly from the drilled holes. Not only did the collection system clear the air, but it also minimized silica-dust exposure that can cause breathing issues.
E-Z Drill dealer Remco Joon, owner of Rocbo Boortechniek, supported Van de Moosdijk during the project to ensure smooth equipment operations. Joon has been an E-Z Drill dealer in Western Europe for nearly 15 years.
"Whenever I needed something, Remco was available, which was critical because significant downtime was not an option," Van de Moosdijk says.
Maasvlakte 2's major container terminal companies APM Terminals and Rotterdam World Gateway opened for operations in 2015. APM Terminals held its grand opening on April 24 and Rotterdam World Gateway opened on Sept. 11. Each can handle more than 2.3 million containers annually.
E-Z Drill's precision, speed and reliability provide assurance to Van de Moosdijk that future projects – whether five holes or 180,000 holes – will be just as easy.