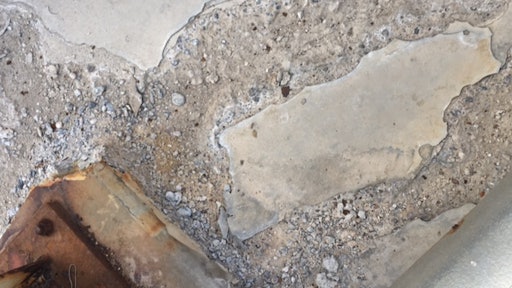 To say the concrete sub-floor at the Jupiter Sulfur Refinery in Billings, Montana was far from being in good condition…would be a gross understatement. It was frankly, in very, very bad shape.
Within this industry, there's no secret that secondary containment on concrete in operational chemical refineries is never less than a difficult challenge for coatings, concrete and steel protection. In this particular application, the challenge was monumental. Just imagine a fertilizer plant where nasty sulfur and ammonia both are being produced. Add to that, the unforgiving climate of Billings, Montana with its freeze-thaw cycle that only adds to the task of professionally installing any coating system, let alone a premium one offering years of performance with an ironclad warranty. Without question, this was not a project for the weak of heart.
But, there was hope.
The challenges to be faced were ambitiously confronted by the conscientious, professional team of ShotCrete Montana, along with the assistance of the AC•Tech Oil Buster technical staff. In particular, "Substrate Sleuth" Johann Bohlmann, AC•Tech's VP of field operations and a seasoned expert on containment problems, was called in to assist and provide cogent recommendations regarding chemical protection and long-term performance for this daunting project.
Working in tandem with Larry Mooney of ShotCrete Montana, together they strategized and subsequently, came up with a well thought-out plan consisting of a composite coating and overall protection system to provide the refinery with a solution that would completely remediate the chemically contaminated substrate. This system would offer both chemical protection at the surface level, and give the customer a more than suitable cosmetic improvement, as well. Overall, this system approach was conceived to give much-needed concrete fortification along with the no-nonsense performance warranty, covering all of the AC•Tech products to be used.
According to Bohlmann, this composite application consisted of the following steps:
Cleaning and coating the contaminated concrete slab
Rebuilding the damaged concrete and then completely coating it with a chemical-resistant system
Including the placement of a cementitious layer for leveling
Applying a primer and then installing the final topcoat guaranteed to withstand years of chemical abrasion and harsh climatic change
Preparing the substrate and the steel structural components that had been affected by chemical attack. This substrate prep program was accomplished with the utilization of sandblasting equipment, assorted hand grinders and other concrete floor preparation tools.
Not surprising at all, one challenging aspect was fighting the weather, which was blistering cold, extremely windy and raining… all of which were impediments to a successful operation
Larry Mooney adds, "From the beginning, we knew that the Jupiter Sulfur Refinery had a very damaged concrete floor. Basically, we would be working on a two year-old concrete installation plus its expansion area, as the company was now producing four times its normal capacity! This clearly was not a typical project. In addition to all the challenges we knew we'd be facing, the fact that the refinery could not be shut down while we were working was certainly one to be considered! Luckily, the AC•Tech products used were so easy to apply and cured so quickly, the floor could actually be walked on just four hours after total application!"
After the total floor preparation process was completed and the underlayment had cured, the sandblasting process took place, in particular, to open up the surface for better penetration of the AC•Tech 2170 FC Primer. After that had cured, AC•Tech 950 SW was added to the newly primed surface. Bohlmann states, "We mixed the AC•Tech 950 SW with Xylene to achieve the right viscosity prior to application. This is a highly chemical-resistant epoxy topcoat that can perform at optimal levels in any climate… in Honolulu, Hawaii… or, Billings, Montana."