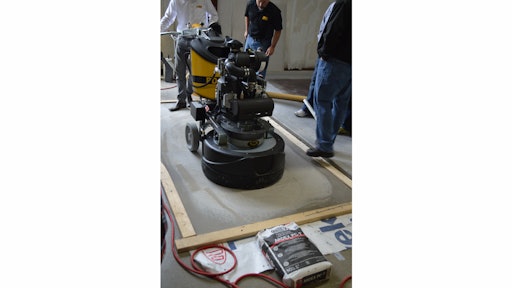 During the course of my travels, I spend a lot of time talking to contractors. One of the questions I ask, what keeps you up at night? And while there is never one single answer, there is always one common answer – training. Some contractors tell me it's difficult to find the right program. While others tell me, time away from the day-to-day responsibilities of their business makes it difficult to attend any type of training opportunities. But in reality, many manufacturers offer a one-, two- or three-day course on a specific topic. Contractors should look at training as an opportunity to grow your knowledge which will ultimately grow your business.
Last week, Concrete Contractor was invited to a participate in SASE University, held at the company's Rockford, Tenn. office. In addition to myself, 23 other contractors from around the country were in attendance to learn about concrete polishing, preparation equipment and tooling. The two day event included a combination of classroom and hands-on demonstration time which proved to be valuable after listening to a variety of guest speakers.

SASE University featured an overview of:
Polished concrete industry
Introduction to the equipment
Diamond tooling
Coatings removal
Concrete polishing procedures
Dying process
Techniques and troubleshooting on concrete slabs
Selling polished concrete
Specs and bidding processes
Maintenance of polished concrete floors
Chase Abrahamson, sales representative from SASE, was on hand to discuss considerations for equipment selection as it relates to floor grinders. These considerations included power requirements, machine weight, motor size, overall dimensions, working dimensions and planetary rotation.
Daniel Lane, sales and technical support at SASE discussed diamond tooling and procedures. Lane's presentation demystified the differences between metal bonds and resin bonds as well as the different types of diamond tooling available.
The conclusion of Lane's presentation included a step-by-step explanation of the concrete polishing process. He noted three questions all polishing contractors should ask before beginning a polishing job.
 What am I grinding? (How hard or soft is the concrete?)
Is there a type of coating on the concrete floor?
What's the final finish I am looking for when I finish the floor
Pat Cunningham, Technical Service Consultant Decorative and Polished Concrete, at Ardex Engineered Cements offered the group his expertise on the company's polishable overlays. He offered one piece of advice if a contractor is to be successful when polishing concrete. "Proper substrate preparation is the key to success," he says.
Cunningham's presentation included topics such as concrete preparation standards and the maintenance of joints, (moving and non-moving joints) in the slab prior to polishing.
Mike Tuccelli, Field Services & Support, Metzger/McGuire was on hand to demonstrate concrete repair and how the company's products work in different situations.
Meanwhile, Cliff Rawlings, Vice President/Key Accounts, Ameripolish discussed integral color for concrete, concrete dyes, and densifiers.
While it might be difficult to find the time to leave your business, taking advantage of training opportunities presented by your equipment supplier can be beneficial to both you and your crew. Take the time to find out if your equipment supplier offers a training program. And if they do, make it a point to attend. You never know what you're going to learn, but I can assure you one thing, you'll come away with a greater appreciation for your craft, a new network of contractors from around the country and a stronger relationship with your equipment/product suppliers.
SASE offers training opportunities throughout the year. While last week's event was the last scheduled training session in 2014, the company will be releasing dates for training opportunities in 2015. Stay tuned.