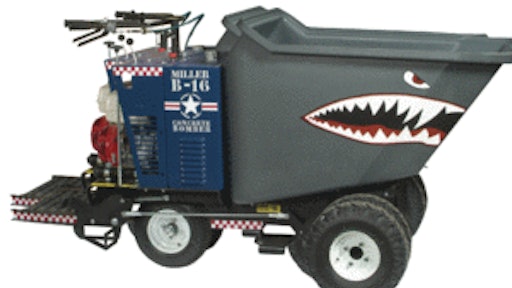 B-16 and B-21 Concrete Bombers

The B-16 and B-21 Concrete Bombers are updated concrete buggies for various construction and concrete applications.
Models sport a retrograde, military-inspired theme
Shipped standard with an aggressive "shark's teeth" design molded into the bucket
Design represents a bold cosmetic makeover of the overbuilt, heavy-duty Scoot Crete buggies
Miller Spreader Company
Canycom Rubber Track Concrete Buggy
The 1,576-lb. Canycom from IHI Compact Excavator Sales is a rubber track concrete buggy featuring a 16-cu.-ft. capacity and a 90° dump angle.
Track system enables transport of materials through muddy ground conditions and over rough, uneven terrain or loose sand and gravel
Hydrostatic drive system
22-hp Robin gas engine with electric start
Travel speed up to 6 mph
Measures 35 in. wide and 95 in. long
IHI/Compact Excavator Sales
CB16P Buggy
The CB16P power buggy features the 16-cu.-ft.-capacity Cross Link Polymer Bucket, which is designed to minimize splash, plus offers a high UV protection rating.
13-hp Honda engine
Bucket hinge design provides greater reach and allows the bucket to sit lower in the frame for easier loading and a lower center of gravity
Extra-capacity 6-gal. fuel tank
Riding platform locks in upright position for walk-behind applications
6-in. minimum dump height
Crown Construction Equipment
Curb Roller
Meets the needs of small to medium contractors by offering relief from hand forming without the high price of machines
Pours up to 30-in. curb and gutter, even next to existing sidewalls
The easy-to-use machine offers accurate pouring and hydraulic drive with variable speeds
Curb Roller Manufacturing
Curbcat
The Curbcat concrete slipform curb and gutter attachment from Creative Equipment Design provides automatic control of grade and steering using sensors and stringline.
Hydraulic vibrators and cylinders powered by skid-steer hydraulic system
Quick, easy hookup and disconnect
Molds changeable in minutes
Easily transported via pickup or trailer
Creative Equipment Design
EDGE Concrete Placing Bucket
The EDGE Concrete Placing Bucket is designed to carry and place concrete with a skid steer in places concrete trucks cannot go.
Available in 1/2- and 3/4-cu.-yd. capacities
30-in. chute extension available
Features include squared off corners and a backed-on powder coat finish
Hydraulically controlled dispensing door closes with a tight seal for accurate, multiple placements from the same load
CEAttachments Inc.
Groutzilla System
The PTO-driven Groutzilla placement system easily places grout and masonry mortar in blocks, walls, forms and foundations.
Handles 20 cu. ft. of material, including most slump
Replaceable steel hopper swivels on heavy-duty roller bearings
Self-wiping Talet auger system with reinforced, composite polymer flighting that prevents binding due to various aggregate sizes
Positive hydraulically controlled shutoff valve
Heavy-duty fork pockets
Stone Construction Equip. Inc.
Lil' Bubba Curb Machine
Self-propelled concrete curb machine designed to easily create curb-style landscape borders in various commercial and residential applications
4-hp gasoline engine
Auger or plunger drive
All-steel construction
All-terrain tires
The Concrete Edge Company
Post-hole Digger
A post-hole digger attachment for the Power Curber 5700-SUPER-B digs pier holes up to 34 in. deep for slipforming concrete foundations for steel cable strung in highway medians.
Mounts on left rear of machine and powered with the auger conveyor circuit
Auger inside cylinder moves dirt upward into a hinged chute, which dumps it out of the way
Stop rod available for consistency of hole depth
Power Curbers Inc.
PS-2700 and PS-3000
Power Pavers offers the PS-2700 and the PS-3000, two belt placer/spreader models to choose from depending on your job size and transport needs. The PS-2700 is for paving depths up to 14-in. thick while the PS-3000 is for paving depths up to 28-in. thick. The PS-2700, with the belt mounted through the tracks and beneath the machine, can be hauled easily on a single lowboy. The PS-3000 has the conveyor belt mounted out in front of the machine. This allows the placement of high volumes of concrete for thick airport and highway paving. Hydraulic loading legs are standard equipment on both models.
Power Pavers Inc.
PumpMaster Model MJ-16
The PumpMaster MJ-16 is a positive displacement piston pump designed for slabjacking/mudjacking, void filling and general pressure grouting applications. Features include an exclusive hydraulic drive train and low maintenance manifold system. It has a 5 cu. ft. material hopper and an 8.5 hp gas engine.
Airplaco Equipment
SP 500 Trailer Pump
Suitable for pumping grout, shotcrete and concrete
45-cu.-yd./hour output
72-hp diesel engine
Long Rock Valve promotes filling efficiency even with harsh mixes containing up to 1.5-in. aggregate
Hydraulic agitator is standard
Forward and reverse remote control
Schwing America
Telebelt TB 600
The Telebelt TB 600 truck-mounted telescopic belt conveyor features a rated output of 600 cu. yds. per hour.
24-in.-wide high-capacity main conveyor and feeder belt with 360° continuous rotation
Will place all flowable materials and large aggregates up to 6 in. in diameter
Four-section telescopic boom with 102-ft. horizontal reach and Modular Boom Control
Ergonomic, lightweight proportional radio and cable remote controls
Putzmeister America