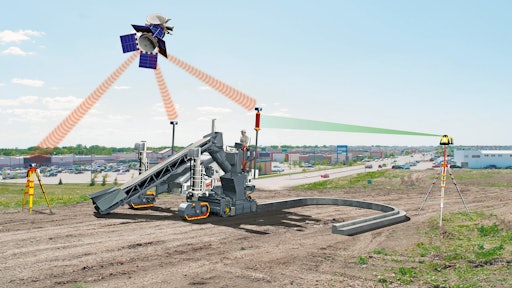 Three-dimensional paving technologies promise easier access to the paver with fewer haul routes to maintain and less congestion. No more setting and re-setting stringline. At the same time, you can improve smoothness and tighten yields on concrete. Just make sure you have enough work to earn a return on the initial investment.
"More contractors are seeing the benefits of a string-free jobsite," says Kent Godbersen, vice president of worldwide sales and marketing, GOMACO. "Three-dimensional guidance is quickly moving beyond road paving and our contractors have successfully completed tunnel paving, slope paving, curb and gutter, sidewalk, barrier and grade preparation projects without stringline."
"It probably won't be much longer until we reach critical mass with stringless machine control and it will become more mainstream," says Wade Bowman, Wirtgen America Inc.
But there is a learning curve. "Make no mistake about it, transitioning to 3D takes a lot of effort," says Bowman. "It is a new way to work and learning how it all works takes some time. We have seen the largest learning curves with personnel who have been using stringline for a long time. Those who are newer to slipforming and are more comfortable with computers typically pick it up more quickly. It is actually easier than setting up a machine with stringline."
Bowman cautions against rushing into 3D. "I would advise contractors to give themselves time to learn what 3D is all about well before they need to complete the purchase of a machine and system," he says. "Also, make sure the right people are in place to operate the system and that there is buy-in at all levels of the organization. Lastly, be certain the system you buy fits the way and where you work."
Paver compatibility is also a concern, but one that manufacturers are trying to address. "Be absolutely sure that the paver you're looking at has the ability to easily interface with whatever system you choose," Godbersen advises. Due to G+ and G+ Connect, all GOMACO pavers will work seamlessly with any 3D guidance system. "From the beginning, our approach was to take 3D sensor information and process that through our controller like we do with the feedback from a stringline sensor. This allows the GOMACO controller to manage machine control loops no matter what sensor feedback we are receiving, whether it is 3D, 2D or a stringline sensor."
"Guntert & Zimmerman has made every effort to partner with third-party 3D systems to ensure our paving line is available with the latest in market technology," says Marco Cantu, service manager. "Guntert & Zimmerman machines are integrated with currently available 3D systems with a simple 'plug and pave' feature."
Make sure you understand how the 3D interface operates. "The biggest operational learning curve is getting used to the controls on the 3D supplier's operator interface," says Cantu. "Switching from stringline to 3D brings with it many advantages, but you should be prepared with the appropriate personnel to help the upgrade run smoothly from model creation to paver operation. Work closely with your equipment suppliers both on the machine and 3D side to ensure that you have the appropriate personnel and training."
Contractors Reap Benefits
Pittsburgh, PA-based Golden Triangle Construction is a diversified contractor providing general contracting services in the fields of heavy/highway and utility construction. It made the leap to 3D paving a little more than three years ago and has successfully completed several major projects using the technology.
"Like most contractors, we have been using various GPS and 3D technologies through the years for grading and earthwork," says Chuck Niederriter, COO. "That naturally progressed up through to paving, where we can use the same CAD files.
"We use 3D systems on mainline pavers and we also found it was very attractive on our ramp machines," says Niederriter. "We use Guntert & Zimmerman's 600 model for ramps, and the 3D is a huge benefit because the stringlines are really difficult to work around due to the tight confines. Also, the accuracy of doing tight curves and super elevations with that robotic system is much more accurate."
Smoothness was initially a concern for Golden Triangle Construction. "That is probably why we didn't jump into it at first," says Niederriter. "I was skeptical if I was going to get the smoothness that we need. Pennsylvania and West Virginia are very strict on ride specifications. It turns out it is easier to get smoothness. It took out most of the human error and gave us more room to work."
The biggest concern with 3D paving is the expense when used in mainline paving applications. "You need a lot of work for it because these guns (total stations) are $35,000 a piece," says Niederriter. "You need five guns and then the system that goes on the paver. You get upwards of $300,000 pretty quick just with the grade control."
Several total stations need to be set up in the path of the paving machine during mainline paving. "You have to buy at least four guns to run the machine," says Niederriter. "Then you need one to use as a checker. So a person is constantly moving guns to keep up with the paver. You are leapfrogging at least four of these guns as you pave so you don't stop. You always have one ready to go in front." And the closer together you keep them, the better. "If you minimize your distance to 300 or 400 ft., you get better accuracy."
Over the past three years, the technology has proven very reliable. "We have had very few issues where we have actually had to stop and make an adjustment," says Niederriter.
You also save on labor. "You eliminate setting hubs and you eliminate a stringline crew," says Niederriter. "You usually have a three- or four-man stringline crew. So you are saving at least three or four men on a typical paving day. But if it was just the labor, it would probably be a long time before you would recoup that cost. "
There are other advantages. "We have found our yield is better," says Niederriter. "We don't waste as much concrete."
But a big factor has been opening up the jobsite. "It reduces the amount of haul roads because we don't have strings everywhere," says Niederriter. "It saves us some grading and some haul road work because we are able to get access to dump the loads. In some cases, when we are using a dowel bar inserter, we can dump right in front of the paver. It really helps because nothing is in the way."
Valley View, OH-based Anthony Allega Cement Contractors Inc. performs concrete paving, asphalt paving, underground utility work and site work, including heavy highway, airport and sewer work. "When we are in town, we probably perform 80% of our own site work," says Joe Allega Jr.
The company is no stranger to 3D technology. It started using Trimble systems for earthwork eight to 10 years ago. The initial move to 3D paving was made approximately four years ago. The reason for making the switch was a project on I-90.
"There was zero room for the stringline," recalls Allega Jr. "The 3D made life a lot easier."
The company started out using 3D on its trimmers. It now uses a Leica system on its Guntert & Zimmerman paver and Trimble on its trimmers and earthmoving equipment.
"The biggest challenges were just getting familiar with the equipment and how it works — where to set the guns," says Allega Jr. "We had a few minor issues with the system, but nothing too complicated."
Four total stations are used. "Two talk to the machine and two are set up for hopscotching," says Allega Jr. "When we get up close to the first two sets of guns, we will hit a few buttons on the Leica box and switch right over to the next set of guns. We typically try to keep the guns 300 or 400 ft. apart. If we are a little farther apart, we lose a bit of smoothness."
Overall, smoothness has proven very good. "We are consistently in the mid-50s as well as the 40s. We are very rarely above 70," says Allega Jr. "The biggest problems we have had were in areas where there was not a lot of space to set the guns."
Anthony Allega Cement Contractors Inc. has seen the greatest ROI from trucking and labor, but there are other benefits, as well.
"It makes the trucking 100% easier not having to worry about the stringline. You have plenty of room," says Allega Jr. "Now that we have gotten the hang of it, I feel that our ride quality has improved. There is much less room for error. You are not constantly checking pins. You don't have to worry about other things affecting the stringline — tightness, somebody missing a number. It takes the human error out of it."
Allega Jr. believes the learning curve for 3D paving may be a little easier than it is with the earthmoving solution. While there are similarities, fewer people are required to understand how 3D paving works.
"With 3D dirt work, every single operator needs to learn how to use it. With 3D paving, three to five key guys learn it and everybody else does the job the way they have always done it," he notes. "I can't think of any project where you could pave stringless and you would not want to do it. If it were up to me, I would never set a stringline the rest of my life."
Paving Machines Adapt to 3D
It is fairly common for today's pavers to come pre-wired for 3D systems. "It is pretty standard now to buy a paving machine that is ready to 'plug and play' with these stringless systems," says Niederriter. "With the initial pavers, you had to get a black box for them. You had to do a little more wiring."
GOMACO, which provides systems for paving, curb and gutter or trimming applications, has been working on the development of 3D paving and implementing systems on its pavers since 1999. "We helped pioneer the concept of stringless slipform paving," says Godbersen. "We have a close working relationship with the three major suppliers of 3D guidance, including Topcon, Leica Geosystems and Trimble.
"GOMACO's G+ control system has an entire library of sensor capabilities for controlling grade, steer and slope with setup configurations for any project requirement," he continues. "This includes paving with 3D as well as 2D guidance systems. Three-dimensional systems are recognized by and communicate with the G+ control system using G+ Connect. Unique applications such as fill-in lanes, tunnel paving, half-width concrete overlays and sonar steering off an existing barrier wall are just a few examples of the different projects that can be accomplished from the sensor library."
G+ is a closed-loop system for both the electronics and hydraulics on GOMACO pavers. "G+ Connect utilizes a CAN network, allowing all of the components in the system to easily communicate with each other for precision setup and paving," Godbersen explains.
Video: GOMACO G+ Concrete Paver Control System

G+ Connect is the technology that pulls everything together. "G+ Connect is the ability to connect guidance systems, intelligent accessories and multiple displays to the G+ or main machine control," says Godbersen. "Intelligent accessories include power transition adjusters (PTAs), center bar inserters, side-mounted bar inserters, the GSI (GOMACO Smoothness Indicator), MiniMote, Ground Control, onboard camera, telematics and more."
Guntert & Zimmerman has set its pavers to adapt to available 3D systems. "The 3D systems are all CAN-based and are very easy to integrate into our machines," says Cantu. "Our software is set up to be able to select stringless or conventional stringline very quickly. "
He adds, "Our latest operations platform, EGON, is a guidance and operation technology that utilizes +1 logic. EGON seamlessly integrates with third-party stringless systems, giving contractors the benefit of 3D, especially when used from the dirt to the final layer of concrete."
Wirtgen has chosen to pave its own path. "We take a rather unique approach to working with third-party systems," says Bowman. "The typical way to achieve stringless machine control is to allow the third-party system to actually control the machine's steering and grade control. At Wirtgen, we have the stringless systems send inputs to an interface box. From there, we handle the information, like stringline sensor inputs, and use our own sophisticated algorithms to control our machines. Three-dimensional files can lead to much more accurate work, but the machine has to be just as accurate to take advantage of this."
Wirtgen machines work with all of the currently available 3D systems via an interface. "The benefits to the contractor include extremely precise machine control, and freedom from system upgrade incompatibility. By system upgrade incompatibility, I mean that if the third-party vendor makes changes to its 3D system, it does not affect our machine control," Bowman elaborates. "Likewise, if Wirtgen makes updates, it doesn't affect the 3D system."
Autopilot is a Wirtgen proprietary system that uses GNSS along with a base station for steering. It offers several options for grade control, including robotic total station, ultrasonic sensor, laser and GNSS.
"The instruments needed for this system are typically less expensive up front and for daily use," Bowman states. "For instance, the robotic total station used for grade control does not have to be located on a control point, so surveying skills are not needed to position it. Because of this, it is also much quicker to place. And of course, time is money."
3D Expands Into Curb and Gutter
"Three-dimensional paving is still quite new to the curb and gutter market," says Rick Harbaugh, product support – 3D specialist, Power Curbers. "We started with a machine in the field back in early 2013. From there, the acceptance has slowly started to climb. But lately, we have seen an explosion of interest."
He believes this will continue. "I see 3D machine control as being the standard in the not too distant future," he states. "The speed of implementation will be controlled by the number of projects that will be 3D modeled start to finish."
Power Curbers has tested and approved systems from Topcon and Leica. The benefits to the contractor include overall accuracy, quick setup time and an open jobsite — no clutter with stakes and stringline.
"The Power Curbers machine interfaces very easily with the 3D control systems," says Harbaugh. "It's simply a matter of connecting the chosen system to the curb machine with a single cable. Then push one button and the 3D system is in control."
For the operator, the switch to pouring with 3D is quite simple. The hard part is accepting that there is no stringline and learning to trust the automation.
"Three-dimensional machine control is a different mindset," Harbaugh acknowledges. "It eliminates the labor needed for setting stringline and the hubs it requires. But it does require some additional work creating the model. I would encourage contractors to be open minded to the process, allow adequate time for training and have people dedicated to learning and succeeding."
Companies in this article