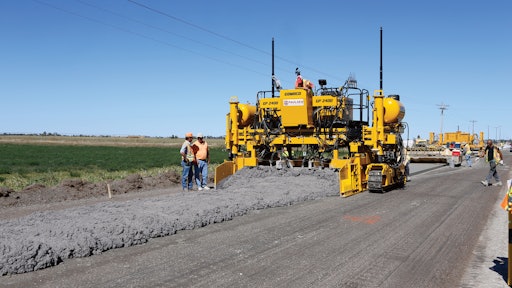 Darr Link is an important road connecting Interstate 80 with Highway 30 near Cozad, NE. It was scheduled to receive a new concrete overlay as part of the larger reconstruction of 12.5 miles of Highway 30. However, the overlay was scheduled right in the middle of Nebraska's fall harvest, which meant consideration had to be given to the farmers whose fields bordered the road, as well as to the daily traffic traveling between the two major highways.
Instead of paving Darr Link in one 25-ft.-wide pass, it would be paved half-width, one lane at a time, while allowing access to the fields for the farmers and other traffic. Paulsen Inc., based out of Cozad, is the contractor on the Highway 30 project. It chose to bring in its new GOMACO two-track GP-2400 paver with Leica Geosystems 3D guidance system for the half-width overlay.
Five inches of the existing asphalt roadway was milled off, leaving 2 to 3 in. for a base. Then Paulsen slipformed a new 5-in.-thick concrete overlay on top of the milled and swept base.
Paulsen had used its 3D guidance system before on its GOMACO GP-2600 paver, but this was the first time for the GP-2400 and its paving crew. Paving production on the overlay averaged around 5,000 ft. per day with very little finishing work required behind the paver.
Paulsen uses five Leica total stations set up at 300-ft. intervals on its paving projects. It feels the extra total stations help paving crews to achieve a higher production rate. The company's two surveyors set up and monitor the 3D guidance system and total stations throughout the day's pour and are also in charge of the leapfrogging process with the total stations.
The Nebraska Department of Roads requires longitudinal and transverse joints to be saw cut into the new roadway every 6 ft. The Department also uses the International Roughness Index (IRI) to measure the smoothness of new concrete roads.
"We need a reading from 68 to 93 for 100% pay, and anything above that they start taking a deduct," Dave Neill, Paulsen's concrete paving assistant manager, points out. "A reading from 56 to 68 earns 102% bonus and 43 to 56 earns 104% bonus. We averaged a 63 with our incentive close to 103%, which we felt was really good dealing with the IRI and that many joints in the pavement."
The company credits good preparation and consistency of the concrete mix as the key to its smooth ride results. Overall, Paulsen is very pleased with its new two-track GP-2400 paver and Leica 3D guidance system.