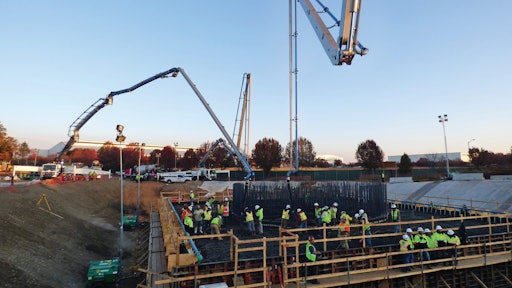 Putzmeister
Two intense nighttime concrete pours for the base of a new air traffic control tower at Charlotte Douglas International Airport (CLT) was a perfect example of logistics and safety in action. At the heart of these pours were three Putzmeister truck-mounted boom pumps – two 56Z-meters and a 58-meter – that met the project's need for long reach as well as fast yet smooth concrete outputs. The result was a safe, speedy completion.
Concrete & Materials Placement (CMP), headquartered in Charlotte, North Carolina, supplied the concrete placing equipment, operators and expertise to safely place 3,580 cubic yards (2,737m³) of concrete for the 100-foot (30.5m) square tower base during the final two pours of the base.
The 56Z- and 58-meter models – at horizontal reaches of 163' 10" and 174' 1" (49.94m and 53.06m) respectively – had the long booms needed for placing the concrete, as the units could not set up close to the pour and dragging hose was firmly forbidden.
"The 56Z-meters were specifically purchased for their longer reach and smaller footprint, which is so important today for accommodating more projects," says Sam McLamb, COO of CMP. The model, weighing under 100,000 pounds (45,359kg), is also lightweight; and along with its compact dimensions, it can maneuver and pump in spaces where other 50-meter class booms cannot fit. In particular, its compact footprint allowed the booms to maximize their reach by keeping the units closer to the pour for this application.
Each 10-hour night pour was demanding, as the goal was to keep two mixer trucks consistently discharging into each hopper of the three large boom pumps. This approach would help meet the pour's deadline. Starting at 9:00 p.m., the crew would need to finish by 7:00 in the morning. The timeline helped ensure the continual availability of concrete at night; and during the daylight hours, it would adhere to air traffic height restrictions as well as avoid busy passenger departure/arrival traffic. As time was of the essence, the high outputs of the .16H pump cells on the boom pumps were key to a speedy process. The pump cells are capable of up to 210 cubic yards an hour (160m³/hr).
Although speed was important, so was a smooth and steady concrete output. McLamb notes, "Contractors appreciate the smooth concrete flow at the end hose that's due to Putzmeister free flow hydraulics." The manufacturer's closed loop system provides a rapid change-over of the stroke to attain higher outputs, a smoother flow of concrete and less boom bounce.
Coordination
"This was definitely a lesson in logistics and safety as there were scheduling challenges, which included directing more than 40 mixer trucks to ensure they were continually discharging concrete into the three boom pumps. Plus, there was constant mix design evaluation," says McLamb. "A lot of moving parts were all going on at one time so it required a concerted team effort."
To address safety concerns in advance, airport officials required all boom pump operators to attend a mandatory safety briefing every time they pumped at the airport. In addition, all CMP operators are certified by the American Concrete Pumping Association (ACPA), and the pumper's full-time safety director trains new finishing crews before a pour, especially about hose whipping and how to avoid injuries on the job.
"It is always stressful when pumping a perishable product," says McLamb. "However, in the end, no mechanical problems were encountered, the pumps capably pumped the properly specified 5,000-psi mix designs, and the pour was safely completed on time."
Nation's Second Tallest
This pour was one of approximately 40 visits to the job site by boom pumps after construction officially kicked off for the new control tower project in June 2016. The facility's operational growth, new air traffic control technology, and the airport's addition of new runways and taxiways made the old tower obsolete. The new tower, at 370 feet (113m) tall, is more than double the height of the existing 155-foot (47m) tower that opened in 1979. It is now the second tallest control tower in the nation, after the 398-foot (121m) tall tower at Hartsfield-Jackson Atlanta International Airport.

An adjacent state-of-the-art facility was also pumped with concrete. The 42,000-square-foot (3,902m²) terminal radar approach control (TRACON) building will hold training rooms, administrative offices and a power distribution supply system. The pumper relied upon their larger 47Z-, 56Z- and 58-meter boom pumps to reach vertical heights up to 188 feet (57.30m) for the structure. In total, approximately 5,600 cubic yards (4,282m³) of concrete were pumped for the tower base and TRACON building.
For the actual control tower structure, decorative precast concrete was specified and positioned in place by crane. The new control tower, with an 850-square-foot (79m²) cab on top, features a better vantage point for air traffic controllers — the previous one was built in the middle of a parking lot. The new tower provides a clear line of sight to all existing runways and taxiways as well as those runways planned in the coming decades, and it is designed to improve safety and increase efficiency in takeoffs and landings at the nation's fifth busiest control tower.
Safety: Priority #1
Just as safety is a significant concern for air travel, the same holds true when pumping concrete with CMP. The company is committed to maintaining a safety process in which each employee is active in identifying, preventing and correcting workplace safety issues to reduce accidents and injuries on the job.
"All new members of our team must attend a safety orientation where they are fully informed about our commitment to safety," says McLamb. "Safety is just how we do business."
The pumper requires employee participation in all safety activities, including the inspection of equipment and worksite conditions, safety training sessions and workplace hazard improvement suggestions. In addition, employees must attend and participate in a monthly safety meeting facilitated by the company's safety director.
Employees also receive ongoing safety training on specific safety standards per 29 CFR 1926 OSHA Construction Industry Regulations and the ACPA. The safety training materials published by the ACPA are utilized to conduct ongoing safety training.
More Airport Work
The Federal Aviation Administration awarded Archer Western Construction, a member of the Walsh Group, the $60 million contract to build the new control tower project. Equipment, installation and training costs, and demolition of the old tower brought the total project cost to $112 million. Construction of the tower and TRACON building were completed in 2018, and the facility is expected to be fully operational by 2020. American Airlines has its second largest hub at CLT.
"Beyond the control tower project, we are doing work for seven other contractors during the airport's major expansion that is underway right now. They are mainly past customers who find our Putzmeister equipment superior, and they appreciate our commitment to safety and service excellence," notes McLamb.
For more than 15 years, CMP has been providing the Carolinas with experienced concrete placing services and operates from six locations today. Their fleet includes 40 truck-mounted boom pumps from 20 to 63 meters, and additional high-pressure BSA trailer pumps, separate placing booms,  truck-mounted line pumps (City Pump®) and Telebelt® telescopic belt conveyors. The larger boom pumps were used on the control tower project, and almost every piece of equipment from their modern fleet, except placing booms, has been utilized in some aspect during the ongoing $2.5 billion airport expansion.