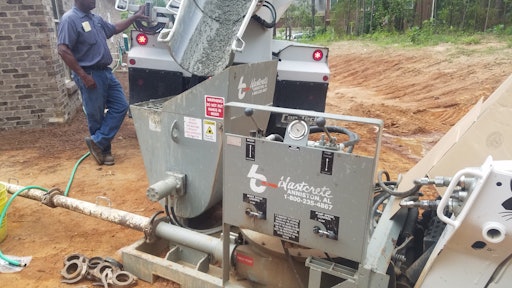 Blastcrete Equipment LLC
By Tripp Farrell, President, Blastcrete Equipment, LLC
Time is money. Nowhere is that more evident than the highly competitive construction market. With tighter deadlines and increased overhead, many contractors are looking for creative solutions to keep their bids low and their profits high.
One way contractors are maximizing productivity is by adding a concrete pump attachment to their fleet that pairs with existing auxiliary hydraulic systems — such as a skid-steer or compact track loader (CTL). This versatile attachment allows fast, efficient pumping of grout materials, 3/8-in. aggregate shotcrete mixes and 1/2-in. concrete for a number of applications. When fully utilized, a concrete pump attachment can provide an efficiency boost and bidding advantage for a number of applications. 
Work at Your Pace
Coordinating with a pump truck can be one of the biggest headaches for contractors, and one of the most expensive. A booming construction market means concrete providers are in high demand and so is their equipment. Coordinating schedules to have a pump truck on site when crews are ready to pour doesn't always work out, which can result in costly delays and missed deadlines.
While large projects will still require the use of pump trucks, many contractors are finding concrete pump attachments provide an optimal solution for on-demand pumping on small projects. A concrete pump attachment gives them the freedom to pump when they want at a significant savings. With pump trucks running $800 to $1,500 or more per job, replacing this expense with a user-friendly attachment that utilizes an existing auxiliary hydraulic system can quickly produce a return on investment — sometimes in as few as 12 jobs.
Increase Your Opportunities
In addition to being available when needed, a concrete pump attachment offers the freedom to pump in difficult to access or confined spaces. Some attachments are as small as 4' x 6' and can operate pretty much anywhere a skid steer or CTL can, including backyards and other tight spaces inaccessible by larger pump trucks. Despite this small footprint, high-output concrete pump attachments can provide up to 25 yds. per hour and pump material as far as 250 ft. horizontally and 50 ft. vertically using the auxiliary hydraulics of your machine.
Lower output attachments are another consideration for those new to concrete pumping. Certain manufacturers offer compact units with pumping rates ranging from 6 to 12 yds. per hour. Lower pumping pressure is ideal for crews with little or no experience pumping concrete. And as entry-level equipment, these units are more cost efficient than higher output models, making them a steppingstone for contractors looking to diversify.
Selecting an output that aligns with desired applications is key to maximizing efficiency. But regardless of which model you opt to use, adding a concrete pump attachment opens up a number of applications in ICF, block fill, form and pour, driveways, basements, grouting, cellular concrete and wet shotcrete applications.
Maximize Your Equipment Utilization
Not every concrete pump attachment is created equal, so those looking to optimize their opportunities and ROI should ensure the equipment offers user-friendly features to make operation and maintenance easier.
Some OEMs offer attachments with design features such as universal mounting plates and forklift pockets to make equipment easier to operate and transport. While certain models will only work with a high-flow skid steer or CTL of the same brand, other units can integrate seamlessly with any auxiliary hydraulic system to provide quality results with only minimal training.
Attachments with a squeeze or peristaltic pump design also offer productivity and safety benefits over swing tube pump types. In addition to a simple, user-friendly design that's easy to operate, this pump is the easiest to clean and maintain. No concrete comes in contact with the pump's moving parts, allowing you to clean the unit in about five minutes using just water and a sponge ball. In addition, the primary wear part on this type of pump is a rubber pumping tube that can be easily replaced on the jobsite in about 20 minutes, resulting in maintenance costs that are typically less than $1 per cubic yard of pumped material.
For operations looking for a competitive edge in the commercial and residential construction industry, adding a concrete pump attachment can be a cost-effective way to increase productivity and opportunities. Working with reputable manufacturers to identify the right pump for your specific needs can further increase overall efficiency. After all, time is money — and with the right equipment, you can save both.