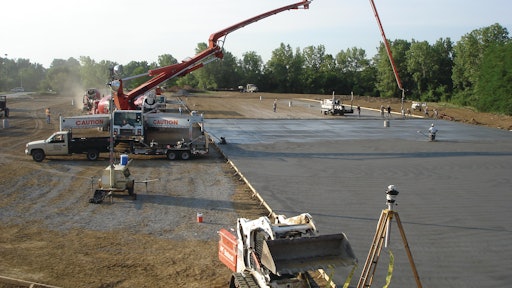 A good business plan and a strong line-up of services can go a long way in a good economy, but when times are tough it might not be enough. Mark Bottorff says it's an emphasis on quality and customer relations that keeps his company successful. It also helped Bottorff Construction win Commercial Concrete Flatwork Project of the Year in 2008 from the Concrete Promotional Group of Kansas City.
Bottorff Construction is a commercial concrete contractor in Atchison, Kan., focusing on wall forming systems and complete flatwork packages including curb and gutter, laser grading, laser screeding and concrete placement. The company averages 60 employees and performs jobs of all sizes.
Mark Bottorff says the company hasn't seen its sales dip in the current economy, something he attributes to its focus on customer service. "We're very service oriented," Bottorff says. "We take exceptional care of our general contractors so they can feel confident going into a job with Bottorff Construction. Exceptional service is probably our niche in the market - something we do better than other people."
That doesn't mean the company hasn't had to make changes to maintain its sales in the current economy. Bottorff says they're placing more emphasis on customer relations by visiting the general contractors they work for and asking them what Bottorff Construction can do for them.
They've also been expanding. "Rather than pull in our wings and hunker down like a lot of people are doing, we hired another estimator and are hard-bidding a lot of projects and expanding our market and geographical area so we can get more work," Bottorff explains.
'Concrete by the acre'
Bottorff started the company in 1982, performing residential concrete foundations on a square footage basis for a local ready mix producer. Over the years, Bottorff Construction "dabbled" in commercial work but remained a primarily residential concrete contractor. Ten years ago the company made a major change. "In 1999 we bought a Somero Laser Screed, and that really propelled us into the flatwork market," Bottorff says.
Jerry Ernzen, VP of operations at Bottorff Construction, explains how the purchase of the Laser Screed changed the company. "That equipment gave us the ability to pour in volume," he says. "It allowed us to move from pouring 10,000-square-foot floors to those 50,000-square-foot projects."
Ernzen says Bottorff best described the business's transformation that year at the company holiday party when he said, "This has been a great year for us - we went from pouring concrete by the square foot to pouring concrete by the acre."
Bottorff Construction's current line-up of services puts the company in a position to take on jobs of any size. The company began offering curb and gutter in 1995, sitework and laser grading in 2000, and concrete placement in 2008. Currently, 75 percent of its sales stem from its flatwork package.
"Something unique we do with our flatwork package is we have people in the office who are ACI certified to test our own floors. We provide the GCs with a copy of the test so they understand the floor flatness," Bottorff explains. He says this practice has been very valuable in recent years as GCs began asking for flatter floors.
"By conducting these tests, we know what we can achieve; therefore, when we're bidding these jobs it gives us an idea of what steps we need to take to guarantee those numbers - it lets us know what our capabilities are," Bottorff adds. "Other companies that haven't tested too many floors really don't understand what they're after."
Another strength for Bottorff Construction is its equipment fleet. "We're probably equipment heavy in this company," Ernzen says."This time of year - February in Kansas - we're looking at a lot of equipment sitting back here in the yard, but in the heat of battle it's all being used."
Ernzen says the company's equipment fleet size is an often-discussed topic, with the management team considering renting more instead of owning so many pieces. But Bottorff says the company always sticks with its large equipment fleet because they know it's well-maintained and there's ease in scheduling equipment when it's your own. "Because we own most of our equipment it gives us a competitive edge over the people we're bidding against," Bottorff says.
"We did almost 200 jobs last year, and a lot of those jobs only lasted a day and a half or two days. Since we own our own equipment it's easy for us to take it with us and bring it back home at the end of the day rather than arranging delivery with rental pieces," Ernzen adds.
An award-winning project
Bottorff Construction's dedication to quality and customer service can be seen in the company's recent award-winning project at Norfolk Southern Intermodal Facility. The site is a train yard and distribution center where trains from the coast carry imported goods, then cranes unload the train cars and load the goods onto trucks for distribution across the country. Bottorff Construction was hired as a subcontractor on the train yard repair; another subcontractor demoed the damaged areas throughout the 150-acre train yard and Bottorff Construction installed the new concrete.
Bottorff had 18 men working on the project, which took place over several months. The project demanded heavily reinforced concrete because of the industrial nature of the project - the yard field was placed at 10 inches thick while the crane rails were placed at 16 inches thick. Ernzen says the project was built to MoDOT (Missouri Department of Transportation) specifications for concrete mix design.
One of the challenges Bottorff Construction faced on this project was scheduling around traffic, on both road and rail. Because the crew was taking on large pours - 1,200 to 1,300 yards a day - the company had to ensure ready mix trucks were coming in without delay. In order to avoid heavy interstate traffic between the ready mix plant and the jobsite and train car traffic coming into the yard and restricting access to the jobsite, Bottorff Construction started its pours at midnight.
This job also spurned Bottorff Construction to increase its equipment fleet, investing in a Putzmeister Telebelt 110. This equipment allowed the company to place both the base material and the concrete on the job, and it allowed them to belt over the top of flat cars sitting on the tracks during times when trains blocked their path to the pour.
The purchase of the Telebelt not only helped the company on the train yard project but they've been keeping it busy ever since. "Now that we have the Telebelt, we use it on almost every job we have," Ernzen says.
Upon completion, the project totaled 16,000 cubic yards of concrete, 9,050 mans hours and zero hours of re-work required, helping the company make this a successful and profitable venture. Not to mention an award-winning project.
Companies in this article