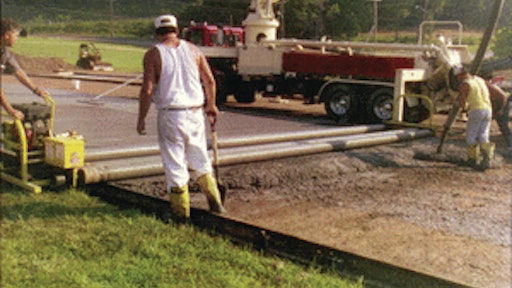 Buckeye Straightedge
The new Buckeye from Kraft Tool is a one man straightedge for striking off and leveling concrete, sand and other building materials. The Buckeye is available in six sizes from 4 to 12 feet. It features a top reading spring loaded level vial for on the job adjustments.
Kraft Tool Co.
DuoScreed
Multiquip's DuoScreed allows for one-man operation with it's unique blade profile. The DuoScreed features an integrated lifting bar that is part of the control handle, an advanced blade that can reverse in seconds and aluminum alloy blades in widths up to 20 ft. The DuoScreed is powered by a four-stroke, 1.5-hp Honda GX-31 gasoline engine.
Multiquip Inc.
E-Series Walk-behind Power Trowel
The Allen E-Series Walk-behind Power Trowel is available in a 36- and 30-in. diameter rotor configuration. Both units are powered by a 5.5-hp Honda engine. The E-Series includes twist pitch blade adjustment and Allen's new handle bar mounted safety kill switch.
Allen Engineering Corporation
EZ Screed Tool
The EZ Screed Tool allows screeding of concrete to be accomplished in an upright position for jobs of all sizes.
Attachable 3-, 4-, 5- and 7-ft. rails constructed of 3/16th 6061 T6 aluminum
Quick-disconnect screed rail system enables quick switch from one blade to another
Powder-coated steel handle with comfortable textured rubber hand grips
EZ Screed Tools, LLC
Lightning Strike Roller Screed
The Lightning Strike roller screed is available in screed tubing lengths from 2 to 20 ft., with more than 20 combinations to fit your pour.
Screed areas of 4 to 40 ft.
Electric or gas motor
Can be used on pervious and exposed aggregate mixes
Can screed driveways, approaches, basements, circular pours, crowned concrete, sloped concrete, semi approaches and more
Lura Enterprises, Inc.
Pervious Concrete Head
12-ft. head attachment for the SXP (eXtreme Platform) Laser Screed
Specifically designed for the placing and finishing demands of pervious concrete
Efficiently produces "green" parking lots, driveways and similar projects when coupled with the SXP's Trimble laser control system
Three-stage boom and rotating and offset head capabilities enable maximum versatility and productivity
Somero Enterprises
Pervious Joint Cutter
Use to roll control joints in pervious concrete
The standard size is a 3 ft. wide roller and a 1 3/4 in. depth on the roller blade with a ½ inch radius
Contains machined tapered ends to eliminate roller marks
Designed to be used with standard float handles
Bunyan Industries
Power Pole Finisher
24-lb. concrete finishing trowel
Start finishing on wet concrete
Extension poles allow finisher to stand outside the formed area
Works on flatwork, decorative concrete and stamping
7-lb, 25cc four-cycle engine meets EPA and California standards
LR Tools Inc.
RPT-55 Radio Controlled Power Trowel
Tibroc introduced the RPT-55 Radio Controlled Power Trowel, which allows one person to finish up to 5,000 sq. ft. of concrete in one day without setting foot on the wet slab. Direction, trowel pitch and speed are controlled from the transmitter. The unit weighs 220 lbs. and is 55 in. long and 26 in. wide. It has a trowel speed of 50-150 rpm and trowel pitch of 0-35 degrees.
Tibroc, LLC
ScreedSaver
The nearly 2,500-lb. ScreedSaver wireless remote-controlled, laser leveling, boom extension concrete screeding machine is heavy enough to handle a 4 slump concrete, yet light enough to be crane lifted to multi-story buildings and even operate on chaired rebar.
Screeds at rates of 3,000 sq. ft./hour with accuracy of F50 - 1/8 in. or better on flat, grade and dual slope jobs
Standard screed head measures 14 ft. wide, with optional heads available in 8- to 14-ft. widths
E-stop function causes machine to automatically sit down on the wheels and wait for further instructions
Ligchine International, LLC
Spin screed
The Spin Screed can be custom cut into lengths up to 22 ft., yet can be carried and loaded onto a truck by a single person.
Complete 22-ft. unit weighs less than 100 lbs.
Consists of an aluminum pipe powered by a heavy-duty right angle electric drill
Can be used on stiff, low-slump concrete of only 3 in. or on concrete with a higher slump
Leaves aggregate immediately below surface, producing a high-quality, durable finish
Spin Screed
Terramite Roller Screed
The Terramite Roller Screed can be used to finish road, sidewalk, runway and ramp projects.
Carrying cradle comes standard
Hydrostatic drive eliminates chains, belts, clutches, cables and keys
High-torque hydraulic motors
For paths from 6 to 32 ft.
Fast and easy cleanup
Terramite / TerraQuip Construction Products, Inc.
Titan TT208
The Titan TT208 ride-on trowel features patent-pending steering system incorporating a single steering stick and a force-assisted steering box.
Drivetrain includes a torque-sensitive, continuously variable primary belt drive, manually adjusted, variable-speed secondary belt drive and gearbox final drive
Power-assisted blade pitch controls
Spider plates allow overlapping or non-overlapping operation
Larger capacity fuel tank allows for a full shift of run time
Bartell Morrison Inc.
Torpedo Groover
56" long
Machine tooled, high grade aluminum
Cuts straight control joint 1 1/2" deep
Also available in 36" and 24" lengths
Slip Industries