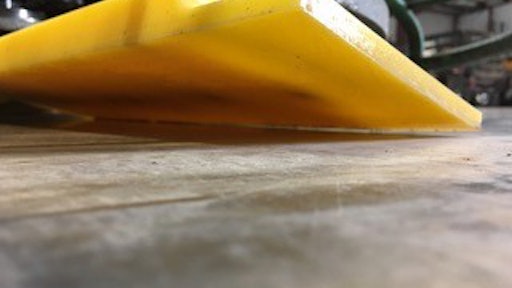 Valtec Group
There are two main types of power trowel blades: those made of high-carbon stainless steel and those made of plastic. Each come with its own set of strengths and weaknesses.
The patent pending OmniPoly Power Trowel Blade from the Valtec Group was created to combat those weaknesses.
Historically, power trowel blades have been made of a high-carbon steel. The downside to these blades is that the carbon sometimes transfers dark burnish marks on the concrete while finishing, which can become black and blotchy.
Plastic blades were developed in the 1990s as an answer to that challenge, with further reinforced plastic blades entering the market in the mid-2000s. While these blades offer a more uniformed finish, they cost significantly more and still have some steel elements that can rust. In addition, the underside has a void or hole where the blades are assembled where concrete particles can accumulate and later fall out in the finishing process and cause scratching.
Technically still a plastic blade, what sets the OmniPoly Blade apart is its continuous bottom, meaning no void for particles to accumulate. It's also made entirely from a special "omnipoly material," which Jeffrey Snyder, the blade's innovator and founder of the Valtec Group, says is wear resistant and will not rust, rot or corrode because there is no steel in it.
"This allows the contractor to install the concrete with a uniformed surface, so you do not get those dark burnish marks," Snyder explains.
Longevity Outweighs Costs
Many contractors associate plastic blades with their high cost and traditionally have used them with limited use. "They were used primarily where they were specified or the contractor wanted to produce a really good uniformed, aesthetic, pleasing surface," Snyder says.
Because of the longevity of this blade material, however, Snyder says the cost per square foot is now better than using steel blades. And because the blades last so long, you have fewer blade changes, meaning less labor and time for the equipment to be down.
"Time is of the essence in the industry with the lack of labor right now. To have people going and changing blades is a half hour of labor time that they could spend doing something else," Snyder says.
He adds that this added longevity and better price per square foot equates to the OmniPoly Blade becoming an everyday finish blade.
Steve Lloyd of Lloyd Concrete was one of the first contractors to trial the blade. And while the blade is not an everyday blade for him, he says it is a great addition to his toolbox.  
"When we do use them, they perform like a plastic blade, but it looks like I'm getting at least twice the use," Lloyd says.
After wrapping up a large paving job at an airport, he was especially impressed by the appearance of the OmniPoly Blade.
"There was no wear on the blades. They looked like they'd hardly been used, and we had performed 40,000 feet of work," he says.
Currently, the contractor primarily uses the blade on industrial floors and some polished floor jobs. "They can be used on a lot of different jobs, but if it's not polished or colored I don't really use them," he notes.  
And though the contractor is careful to note that the product is still in the early stages, so far, he is pleased with their performance.
"[The product is] still young…but what I like about it is the wear part. They're expensive; all plastic blades are expensive, but these don't wear out like other blades do. If you asked me if I would buy them again, absolutely I'd buy them again," he adds.