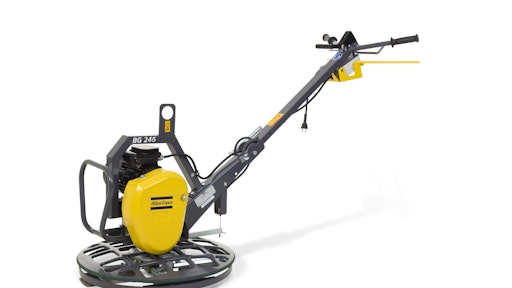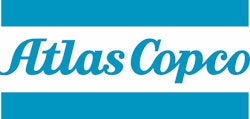 Atlas Copco's new BG245 and BG375 walk-behind trowels excel at finishing concrete in limited-access worksites, and close to walls due to their compact bodies and light weight. The upgraded trowels feature an adjustable clutch to enhance versatility; a maintenance stand to make servicing easy; and a centrifugal clutch for safe operations. The trowels' relatively light weight and compact protection rings provide versatility on concrete slabs.
The BG245 weighs 130 lbs. and the BG375 weighs 185 lbs., making them easy to maneuver.
Each unit features four blades that range from 24 to 36 in. long, which allows operators to tackle a wide range of projects, from sidewalks to driveways.
The BG245 comes equipped with 24-in. long blades and features a rubber edger to prevent damaging walls or concrete, which makes it ideal for use on indoor worksites.
The BG375 includes 36-in. long blades for operation on larger, outdoor applications, such as driveways.
Both trowels come standard with a gas-powered, high-capacity Honda or Vanguard engine.
The trowels' quick pitch controls minimize set-up times and enhance their versatility.
Operators can adjust the angle of the blades and speed easily without impacting productivity. This variable speed also means operators can perform either high speed burnishing or low speed, high torque floating.
The units' centrifugal clutches, commonly referred to as the dead man's grip, disconnect the drive train from the engine as soon as the operator releases the grip. This stops the blades within 180 degrees of rotation.
The BG245 and BG375 trowels' carrying handles are welded to the protection rings and support the trowels when the machines are tilted forward for maintenance, such as cleaning or changing blades.
Contractors can fold the units' operating handles to save cargo space and load handling time during transport.
The BG375 features a detachable throttle that can be moved from the left handle to the right, which enhances comfort and ease of use for left and right-handed operators.
Can be equipped with optional transportation wheels for fast and easy maneuverability around the jobsite.
Request More Information
Fill out the form below to request more information about
Atlas Copco Upgraded BG245 and BG375 Walk-behind Trowels