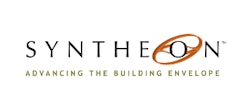 PITTSBURGH (September 14, 2011) -- Elemix concrete additive, a signature product of Pittsburgh-based SYNTHEON Inc., a wholly-owned subsidiary of NOVA Chemicals Inc., is a key component in GreenZone's High-Performance Medical Facility, a modular building designed to reach LEED Gold standards. GreenZone will be featured outside of the South Hall entrance of the convention center at the Greenbuild 2011 International Conference and Expo (October 4-7, 2011). Plasti-Fab Ltd., an exclusive licensee of Elemix additive in Canada, will also be onsite to talk about regional growth and product benefits. Additionally, Design and Engineering Manager Juan Pablo Donoso from NOVA Chemicals Chile Limitada will be available to talk about the increasing success of lightweight concrete in projects across Latin America - from social housing to skyscrapers to residential developments. Visitors to the SYNTHEON booth #1431N can register to receive an advance copy of a white paper that highlights the growth potential of lightweight concrete.
Elemix additive is a lightweight synthetic particle used as a partial replacement for conventional normalweight or lightweight aggregate to reduce the weight of concrete. By reducing the weight of the flooring systems for a multi-story building, there is a reduction in the total steel required to support the building. This reduction in steel equates to a total reduction in cost of materials for the project. In precast concrete, weight reduction equates to more precast elements on a truck, thus reducing the number of deliveries required and improving the impact on the environment. When designed in a low-density concrete, Elemix additive can support a green roof or wall system that reduces the heat island effect, potentially improving energy consumption in structures. Moreover, recent studies show that Elemix additive improves resistance to cracking and fire, and adds durability to freeze-thaw, all of which adds up to better life-cycle performance.
Designed to reach LEED Gold standards, the modular facility is being built for Greenbuild by NRB Inc., a modular construction industry leader headquartered in Grimsby, Ontario Canada, that specializes in permanent off-site construction. Commercial modular buildings are often multi-story buildings that are 60 to 90% completed off-site in a controlled environment, and then transported and assembled at the final building site. NRB is committed to more sustainable principles and practices in construction.
Companies in this article