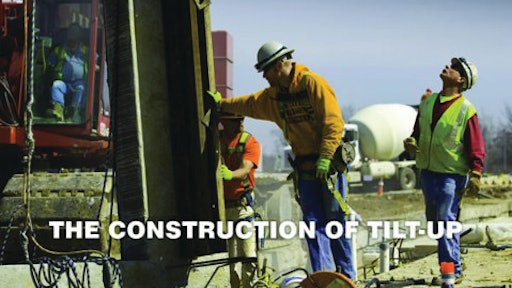 The Tilt-Up Concrete Association (TCA) -- a non-profit international organization focused on expanding and improving use of tilt-up -- released of "The Construction of Tilt-Up" to update the industry on state-of-the-art methods with large colorful imagery of the construction process.
The newest publication from the TCA is the second in a planned trilogy of resources covering the architecture, engineering and construction of tilt-up. Like the first volume, "The Architecture of Tilt-Up," this book is printed in a generous 10- by 10-in. format.
Topics include: planning; slabs and foundation; panel layout and forming; reinforcement; inserts and embedded items; placing and finishing of the panels; lifting, setting and bracing of the panels; connections; and finishing touches.
"'The Construction of Tilt-Up' is a long overdue publication," states Jim Baty, TCA Technical Director. "Recognizing the impact that Hugh Brooks has had on the industry when he produced the 'Tilt-Up Design and Construction Manual,' there has been a wealth of technology and process change in the last decade. The focus of our effort on this manual was to bring to light these technological improvements and testimonies to the maturity of the professional contractors in the industry. It is a great companion to 'The Architecture of Tilt-Up' that was released last year."
"The Construction of Tilt-Up" is available for $145 for non-members or $95 for members. For orders of ten or more, each book is available at a reduced rate of $75. For questions or to order, contact TCA at 319-895-6911, info@tilt-up.org or purchase online from the TCA website.