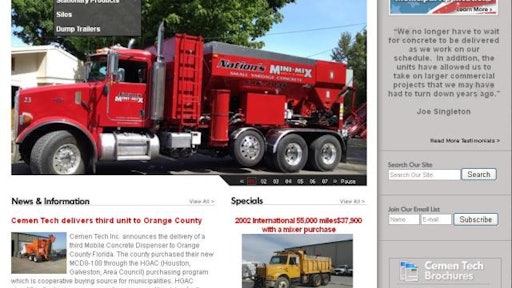 Cemen Tech Inc., the world's largest manufacturer of volumetric mixers, announces a new interactive page on their website. Customers can now visit www.cementech.com and spec out their own mixer. The "build your own " page includes options for customers to choose as the mixer can be designed to their specifications. They can then submit the specification for a quote making the purchasing process simple and easy.
To use this new feature, simply go to the Cemen Tech website, click on the products tab and choose either the mobile or stationary model you are interested in. Once there you can click on the "build your own" tab which will take you to the options you wish to select and allow you to click on the options you require for your mixer.
While this new interactive portion of the Cemen Tech website is the newest innovative way to assist customers in their purchasing decisions, customers can contact the Cemen Tech Inc. sales department at 800-247-2464.