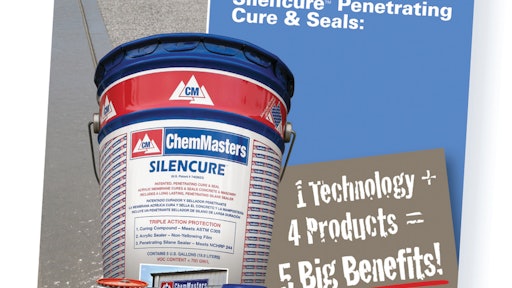 ChemMasters, Inc. has published a new brochure detailing its Silencure Penetrating Silane/Siloxane Fortified Cure and Seal technology. Silencure products are intended to improve the efficiency of concrete contractors. Because they can be applied in a one-step process to fresh concrete within two hours of the final finish, Silencure products eliminate the need for water or resin curing, stripping and the traditional 30 day waiting period prior to silane or siloxane treatment. By simultaneously providing both a curing compound and a penetrating silane/siloxane sealer, this technology reduces labor with fewer jobsite visits.

Silencure technology is available via four ChemMasters products: original Silencure, low-VOC Silencure A, SilencureDOT for highway payment, and Silencure SRT, a patented water-based formula that can be applied to new broom finished, precast, hand or machine troweled surfaces. Silencure SRT can also be used on older unsealed concrete, making it appropriate for concrete contractor use.

ChemMasters' Solvent Replacement Technology (SRT) provides additional environmental benefits, is VOC compliant and virtually trouble-free. Silencure SRT cures concrete to ASTM C-309 and ASTM C-1315 standards, exceeds NCHRP 244 standards for salt protection and will exceed 100 freeze / thaw cycles without damage.

ChemMasters, Inc. is a 58 year-old manufacturer of specialty concrete chemicals used to improve, repair and protect concrete and masonry.