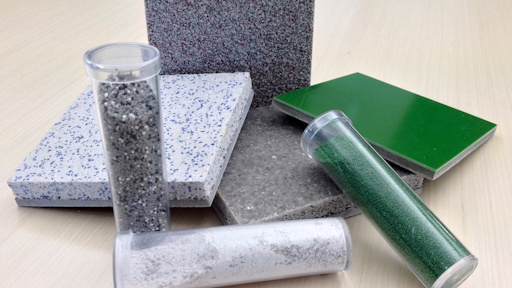 BassTech International, a New Jersey-based global supplier of specialty raw materials and chemicals, has entered into a distribution partnership with Germany-based Dorfner Group for its customers in North America. Dorfner's unique kaolin and crystalline quartz sand-based functional fillers are already used worldwide in industrial flooring, paint and coatings, glass, paper, building materials, and composite materials.
According to the company, costs in industrial flooring can be reduced when less binder is used in proportion to the amount of filler. Through decades of research and development, Dorfner produces functional filler systems that outperform natural sands at reducing resin consumption and decreasing final costs while providing exceptional strength.
Dorfner's DORSIMIX filler blends are engineered to reduce costs while providing grip and durability for industrial and commercial flooring. They are ideal for use in retail, hospitals, schools, colleges, train stations, airports and more.
GRANUCOL colored quartz sands, available in more than 120 shades, offer designers a virtually unlimited palette of design options. Along with its exceptional color stability, GRANUCOL is resilient and durable. It is used as a main component in modern kitchen sinks and industrial flooring in a variety of settings including decorative sales floors, pharmaceutical, and food industries.
"Granucol now offers architectural sanitary ware designers the ability to produce custom composite fixtures/sinks at a fraction of the traditional ceramic cost, while enhancing flexibility in colors, style, speed and mold design," says Alan Chalup, COO of BassTech International.
For more information, visit http://www.basstechintl.com or contact a representative at (201) 569-8686 or info@basstechintl.com.