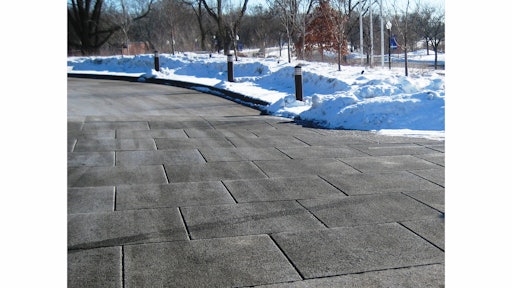 Percoa USA, LLC is the first and only company to develop and patent pre-cast pervious concrete. Pervious concrete is engineered with an open-cell structure to allow rainwater to drain directly through its entire surface, so the water can percolate down into a stone aggregate substrate and then infiltrate into the soil. In the issued patent, US 2012/0018363 A1 (first filed on July 24, 2010 and published on July 8, 2014), Percoa received broad protection for its unique, innovative pre-cast pervious concrete system and methods as well as related water filtration systems for stormwater management.

"We have demonstrated the durability of Percoa pre-cast pervious concrete as well as its effectiveness in capturing and filtering runoff," says Brett Pomerleau, founder and president, Percoa USA, LLC. "Now that we have secured our patent, we are moving forward to license our technology to companies ready to manufacture pervious slabs and pavers for stormwater management in commercial and residential applications."

"Percoa has the potential to revitalize and expand the use of pervious concrete. With Percoa, you know what you are getting, and how it will perform, because of its controlled production process," says Mary Vancura, Ph.D., civil engineer, Beton Consulting Engineers, LLC. Headquartered in Mendota Heights, Minn., Beton Consulting Engineers offers specialized expertise in concrete production and performance.

Pervious concrete controls and reduces stormwater runoff at the source, improves water quality by decreasing erosion and filtering out pollutants, and recharges groundwater supplies. The Environmental Protection Agency (EPA) recognizes it as Best Management Practice (BMP) for Low-impact Development (LID). A land planning and engineering methodology, LID emphasizes natural features integrated with engineered hydrological controls to capture and clean stormwater runoff on site.

The performance of Percoa pre-cast pervious concrete has been proven in a wide variety of successful installations. Since October 2011, the Minnesota Department of Transportation (MnDOT) has monitored an installation of Percoa slabs at MnROAD, one of the most sophisticated, independently operated pavement test facilities in the world. According to MnDOT, to date, the test slabs have withstood three winters of freeze-thaw action and an estimated 720 tests with the weight of a fully loaded 18-wheel, 5-axle tractor trailer with very little settlement or cracking.

"Percoa provides a good alternative to other permeable and porous pavement materials and products," says Steve Klein, vice president and senior civil engineer, Barr Engineering, Edina, Minn. "In many cases, Percoa would be advantageous over the other products." With expertise in stormwater mitigation, water resources management and watershed planning, Barr provides engineering and environmental consulting services to clients around the world.

Percoa pre-cast pervious concrete is an alternative to poured-in-place pervious concrete. Percoa is higher quality — with more consistent structural characteristics, greater uniformity throughout, and predictable performance. It is stronger and more durable. It is immediately functional and useable when installed. Percoa can be pre-cast in a variety of sizes, shapes and colors. It offers far greater flexibility for civil engineers, landscape architects and contractors to design and install parking lots, driveways, sidewalks and walkways, plazas and patios that are attractive, functional and low-maintenance as well as pervious.

Percoa is more effective than permeable pavers. Permeable pavers themselves are impervious. Water infiltrates only in the space between them, which is filled with construction aggregate. Per square foot, permeable pavers infiltrate the least amount of stormwater compared to other porous and pervious materials.