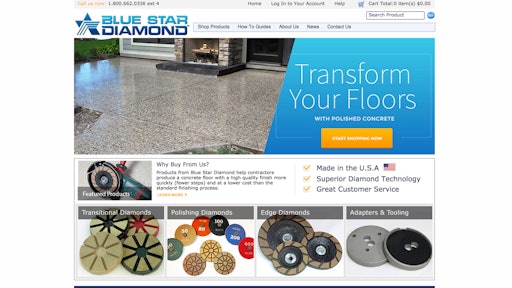 BORIDE Engineered Abrasives announces the launch of a newly designed website for the Blue Star Diamond Concrete Polishing product line and the addition of Carla Nickodemus as Product Manager for the business.
The new Blue Star Diamond website is part of the company's continued commitment to providing outstanding customer service to concrete polishing professionals.
"The new site is tightly integrated with our manufacturing ERP system allowing us to process orders more quickly and accurately," says BORIDE's Marketing Director, Jennifer Borkovich. "We have also added 'How To Guides' that detail how to utilize our Blue Star Diamond technology to achieve a superior finish in fewer steps - lowering overall costs." Blue Star Diamond products can be also purchased from leading concrete tooling and equipment suppliers throughout the U.S.
Carla Nickodemus has joined BORIDE as Product Manager for Industrial Wheels, which includes the Blue Star Diamond product line. Her experience includes industrial sales and product line management for both U.S. and international companies. Carla can be reached at BORIDE's Traverse City, Mich. headquarters at (231) 922-2121, x133.