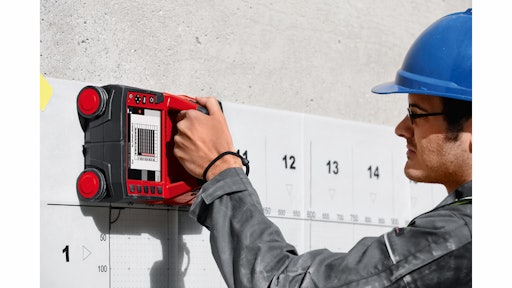 The Hilti X-Scan system PS 1000 used in conjunction with the new PROFIS PS 1000 Premium software takes nondestructive inspection of concrete and as-built checks into a new era. The premium package makes it simple and reliable to find and mark drilling, coring or sawing locations, thus helping avoid costly damage and lost time due to hitting rebar, pipes or cables.
The Hilti X-Scan system PS 1000 system has been upgraded to see deeper than ever before with a new "expert" mode which detects embedded objects at depths up to 18" depending on permittivity of concrete
Adding the Hilti PSA Jobsite monitor makes the display of live electrical cables and true diameter drill hole markers possible
The PROFIS PS 1000 Premium software package offers many export functions to analyze the data in additional programs such as AutoCAD
Overlay scan data from three different sensors and view the information in a single output; making it possible to view from one document information gathered from a Hilti Ferroscan which reveals ferrous objects, rebar diameter and depth of cover information
X-Scan reveals various objects for identification and classification of rebar; display of rebar diameter; accurate depth of cover information gathered; and, identification of live electrical cables in conduit
The PROFIS PS 1000 Premium package is a tool for "as built" checks and allows the user to label and scan positions and drill hole markers with building coordinates for accurate scan placement in design files, whether on-site or off
Export scan data in various design formats like "DXF", "COLLADA", and "X3D"
Compact all-in-one hand-held scanner offers easy, user-friendly operation, quick start-up for speed of use, plus data visualization
A durable, rubber coated housing for jobsite protection is also water and dust resistant in typical jobsite conditions
The Hilti X-Scan system PS 1000 is covered by Hilti's Calibration Service to help ensure reliability and accuracy
Through the Calibration Service, the X-Scan will be calibrated once a year with the calibration confirmed in writing
The X-Scan PS 1000 is also covered by Hilti's Lifetime Service, a service agreement that includes two years of no-cost coverage*.
*Some limitations apply