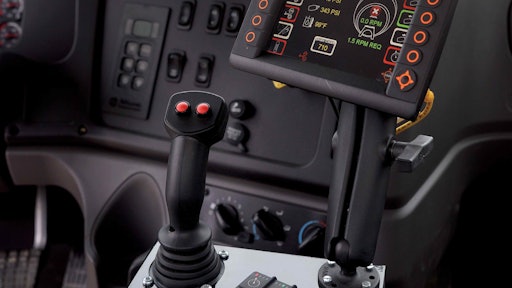 Schwing America's new mixer truck control system, Schwing Control Technology (SCT) brings greater fuel savings to ready-mix concrete producers across the country.
"With our new SCT mixer control system, we're now offering concrete producers fuel savings never before seen in the ready-mix market – making Schwing America a leader in mixer truck control system technology," says Aaron Lian, Vice President and General Manager, Ready Mix Products for Schwing America.
The patent-pending SCT system separates engine and drum RPMs for better fuel economy and lower overall RPMs. The system senses the material during charging and the SCT system adjusts the truck and drum RPM to an optimal load setting. Once the vehicle reaches a certain speed, the hydraulic pump output goes into a constant flow and refrains from drawing horsepower from the engine. This process delivers approximately 35 – 40 horsepower back into the engine, which generates the fuel savings and efficiencies.
"Maintaining the drum at lower constant speeds saves approximately 100,000 drum revolutions per year, which equates to considerable savings in fuel consumption," Lian notes.
Schwing recently worked with Carr Bros., a ready-mix concrete business in Cleveland, Ohio, to conduct a fuel study using two identical mixer trucks. Removing all of the other variables by using two identical trucks, Carr and his team used the drum control as the independent variable to determine precise fuel consumption between the two vehicles.
"The study we conducted with Carr Bros. concluded that using the SCT system with SMART Drum in ideal conditions can save ready-mix concrete producers 14.7 percent in fuel consumption," says Charlie Schumacher, national sales manager with Schwing. "Using these findings, we can conservatively say that producers can save around $4,000 to $5,000 annually for each truck using the SCT technology. We have seen similar results in tests with major ready mix companies in the US."
Lower drum speed provides a number of ancillary benefits as well, including longer drum life, higher quality concrete and a lower center of gravity, which gives concrete producers a better product and a higher level of safety.
All mixer trucks and the SCT systems for North America are designed and manufactured at Schwing America's manufacturing facility in St. Paul, Minn.