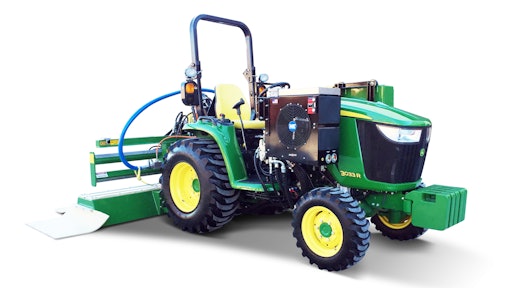 NLB

The NLB 6600-3 ConcreteBuster is a robot that is used for hydrodemolition applications.
High-pressure water removes concrete without micro-fracturing or damaging the rebar. The high pressure water can remove sound and unsound concrete from under the rebar. The system utilizes a John Deere Model 3033R unit with a 32 hp (23.86 kw) diesel engine to power the tractor indexing, removal head functions and high pressure water on/off.
The PLC control system allows the operator to control the SpinJet rotation speed, traverse speed and robot movement. Traversing/oscillating removal head is adjustable for both re­moval depths and width of cut. The 6600 connects easily to an NLB 20,000 or 40,000 psi high pressure pump system. The updated design of the ConcreteBuster includes a new hydrocooler, positive indexing system and lighter removal enclosure. 
Features:
• Rotating or oscillating nozzle option.
• 96 in. (243.8 cm) wide rear-mounted, hydraulically-powered SpinJet bucket assembly.
• PLC control of speed, width and travel. • Remote pendant allows operator to run the machine up to 25 ft. (7.62 m) away    
Request More Information
Fill out the form below to request more information about
NLB 6600-3 ConcreteBuster