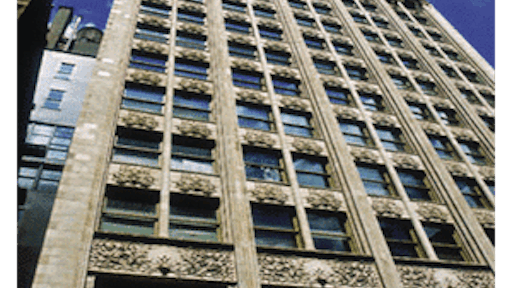 Anchor System for Terra Cotta Repairs
Stainless steel anchoring system can stabilize and strengthen a terra cotta structure without the need for external and internal steel bracing
Can be used to repair and reattach terra cotta used in historical buildings, masonry bridges, monument repair, high rise building, retaining walls and harbor walls
2-hour plus fire rating
Can be installed to be invisible
Cintec America
Bucket Crushers
These bucket crushers are available in 11 different models for use on skid steers, backhoes, loaders and excavators.
Crush demolition debris, rocks, concrete, asphalt, brick, blocks and other waste
Turn aggregates into usable material for road base, drainage, compatible fill, etc.
Simex s.r.l.
Concrete Repair Products
100% Acrylic Products
Concrete sealer resists blushing when exposed to rainfall or moisture
Concrete crack sealant designed for sealing cracks and joints
Concrete patch is a heavy bodied trowel grade patch to fill cracks up to 1" wide
SealMaster
Electric Demolition & Rotary Hammer
Wacker Neuson's new EH 6M electric hammer and EHB 7M rotary hammer offer 9-foot pounds per blow, a "quick check" LED indicator to check the power supply and the Wacker Neuson vibration dampening system.
Wacker Neuson Corporation
Hammer Model 1350T
This pneumatic-tired, mobile hydraulic hammer breaks, cuts and scores concrete, rock and asphalt into sizes suitable for excavation, recovery, or cracking and seating.
Operates on and off paved surfaces
Hydraulically controlled creeper gear provides working speeds up to 63 fpm
Adjustable impact up to 13,000 ft.-lbs.
80-hp John Deere diesel engine
Synchromesh transmission allows for travel speeds up to 20 mph
Arrow-Master Inc.
MatchCrete Clear
Roadware introduces MatchCrete Clear, a two-component, UV-resistant polyurethane for repairing cracks, spalls and joints in concrete subject to UV exposure from sunlight. Colored sand and pigments may be added to the clear material to create color stable repairs that match most any decorative or shade of concrete surface. The product sets in 20 to 40 minutes and fully cures in a few hours.
Roadware, Inc.
ProSpec Concrete Resurfacer
ProSpec, a Bonsal American brand, has reformulated its Concrete Resurfacer with corrosion inhibitor for surface renewal of old or worn concrete, including concrete structures exposed to deicing salts. Concrete Resurfacer is a polymer-modified, single-component product that can be applied feather edge to 1/2-in. thickness on horizontal surfaces without priming.
Bonsal American
Rapid Set Cement All
Permanent and crack-free repairs for industrial floors, slabs, formed concrete work, highways and more
Reaches 3,000 psi in one hour
Resistant to chemical attack, freeze/thaw, abrasion and shrinkage
CTS Cement Manufacturing Co.
Rivet Busters
The new rivet busters from Chicago Pneumatic feature a patented Controlled Power System (CPS) to prevent blank firing when the unit's bumpers are worn out. The CPS system incorporates a stepped piston and bridged cylinder to prevent accidental ejection of the piston. Rivet buster models include the CP 4608 and CP 4611 with deliver 8- and 11-in. tool strokes respectively. Each model is available with either the D-handle inside trigger or a pistol grip external trigger and requires 45 cfm.
Chicago Pneumatic Tool Co.
SB 452 Hydraulic Breaker
Atlas Copco introduces the final addition to its new generation of solid body hydraulic breakers with the SB 452. The SB 452 has a maximum impact rate of 1,260 bpm and is suitable for carriers in the 6.5- to 13-metric-ton weight class with 14.5 to 27.7 gpm oil flow and 1,450 to 2,175 psi. The breaker's design allows for better operator visibility and a new hammer mechanism with recoil dampening reduces vibrations by 40% to 53% compared to previous SB models.
Atlas Copco Construction Equipment LLC
SDS Plus Rotary Hammers
In addition to advanced lithium ion battery technology, the SDS plus Lithium Ion cordless rotary hammers are packed with features to maximize durability, user comfort and convenience including dual speed modes, idle strike restrictors, tool-less chucks, and accessible carbon brushes.
18-volt DH18DL can drill up to 105 holes on one charge
25.2-volt DH25DAL delivers 0-750/0-1,500 rpm and 0-3,100/0-6,200 bpm for optimal performance
Factory set slip clutches
Two-step speed switches
Hitachi Power Tools
Sealate
High molecular weight methacrylate resin system for sealing and filling cracks in concrete structures
Available in T-70 and T-70 MX-30 formulations
Very low viscosity
Deep crack penetration
Fills and bonds cracks
Fast cure
Single application
Low odor, low volatility
Transpo Industries, Inc.
TE 1000-AVR
Hilti's TE 1000-AVR breaker provides 16 foot-pounds of energy generated by a 1,600-watt motor. The active cooling system to reduce wear and tear and three-chamber sealing to keep dust out of the tool. Other features include a brushless SR motor, Hilti's advanced vibration reduction system and a power reduction switch to cut the impact by 30%. The TE 1000-AVR is compatible with an array of Hilti chisels.
Hilti Inc.