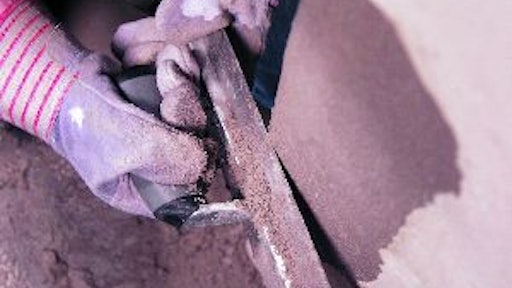 Micro-Blaster System
Compact demolition system for the breaking of hard rock and concrete
Materials are cracked from within using proprietary gas producing cartridges to generate pressures up to 75,000 psi
A 5/16 in. by 10 in. hole is all that is needed to place cartridges
System triggered remotely by a pulse of 100 psi air or carbon dioxide and can be configured to initiate up to six simultaneous shots
Ezebreak, LLC
Planitop X Repair Mortar
One-component, shrinkage-compensated, fast-setting, polymer-modified cementitious repair mortar
Suited for vertical, horizontal and overhead applications
Can be applied in thicknesses of featheredge to 4 in.
Cures within three hours and can be sculpted during curing time in order to customize repairs
Mapei
Abocrete
Anchors, bonds and rebuilds concrete permanently
100% epoxy solids and contains no water or solvents to evaporate and cause shrinkage
Unaffected by salt water, oils and other chemicals that corrode concrete
Hardens in one to six hours depending on temperature and volume of material applied.
Abatron Inc.
FiberLock
Seals, strengthens and stabilizes cracks in foundations using carbon fibers
Repairs structural, hairline and seeping cracks in vertical, horizontal and corner applications
Provides structural integrity
Odorless
Can be painted over after 48-hour curing time
KM Sales
CM-Series Comet Breakers
Offersthe durability to cover a broad range of work
Upgraded designprovides smooth oil flaow
Dusthome chisels increase longevity and durability of the chisels
Sound reducing technology
SEBA USA
FastSet Repair Mortar
Portland cement-based high-strength mortar specially formulated to make structural repairs to any surface
30-minute working time
Provides low sag for vertical, curved and overhead repairs
Achieves a compressive strength of 2,000 psi in three hours and 6,000 psi in 28 days
Available in 20-lb. pails or 60-lb. bags
Quikrete
D.O.T.Line
Environmentally-friendly, high-performance, rapid concrete repair product
Non-Portland, non-epoxy
Comes in turn-key, pre-extended, 58-lb. bags
Mixed and placed like traditional concrete
Specifically designed for horizontal to near-horizontal applications
20 minutes of working time
Reaches compressive strengths of more than 2,500 psi within 2 hours
Ceratech, Inc.
Sakrete Concrete Crack Filler
Pourable crack filler
Packaged ready-to-use
Fills cracks up to 1/2 in. wide
Self-levels and cures within 24 hours of application
Protection against freeze/thaw cycles
Bonsal American
SM 320 ShaveMaster
The first multipurpose concrete floor corrections machine capable of up to 1,000 sq. ft. per hour
Uses 50 diamond blades for coatings removal, joint repair, slurry cap removal, spalled out areas and more
Self-propelled with both forward and reverse
When coupled with the VIC vacuum system is extremely green at only .003 microns of airborne dust
Powered by a 15-hp, 460-volt, three-phase motor
Weighs 716 lbs.
VIC International
WS Series Walk-Behind Concrete Saws
Includes nine models with 12- to 36-in. blades and cutting depths from 4.6 to 15 in.
Honda, Wisconsin or Deutz engines
Heavy-duty, seven-gauge steel frame with steel splashguards
Three manually propelled models
Four largest models include hydrostatic drive propulsion systems with a six-belt or nine-belt drive
Ingersoll Rand Company
Sealate
High molecular weight methacrylate resin system for sealing and filling cracks in concrete structures
Available in T-70 and T-70 MX-30 formulations
Very low viscosity
Deep crack penetration
Fills and bonds cracks
Fast cure
Single application
Low odor, low volatility
Transpo Industries, Inc.
Futura-15
One-component, cementitious, rapidly hardening structural repair mortar
Designed for horizontal applications
Sets quickly, even in cold weather conditions, without the aid of chloride- or gypsum-based accelerators
Ideal for structural patching of concrete pavements, bridges, parking decks, and repair of sidewalks, expansion joint nosings and commercial applications
Can be used in cold weather conditions
Available in 50-lb. bags
W.R. Meadows Inc.
10 Minute Concrete Mender
Penetrates deeply into concrete, making repairs from the inside out
Two-part polyurethane has a surface tension 1/3 of water and may be needle injected into concrete cracks as small as one millimeter
Polyurethane drives itself into concrete surfaces and bonds concrete back together in 10 minutes at 70º F
Needle tip mixers available in three sizes from 0.8 to 1.6mm and can be used on polished floors, decorative concrete, and retail showrooms or anyplace where aggressive cutting and preparation is not desired
Roadware, Inc.
Grab-n-Tote
Concrete slab remover makes it easier for one person to safely lift and move up to a 500-lb. concrete slab
Dolly-like tool attaches to concrete slabs 4 to 12 in. thick by 18 to 48 in. in length
Uses a metal claw and curf blade to hook under slab and lift it
Universal claw-grabbing action allows operator to grasp carpeted, tiled and even rough surfaced concrete slabs out of a trench or off a flat floor
Able to negotiate sharp turns and confined spaces while carrying slab
GMJ Company LLC
Concrete Repair Products
100% acrylic products
Concrete sealer resists blushing when exposed to rainfall or moisture
Concrete crack sealant designed for sealing cracks and joints
Concrete patch is a heavy bodied trowel grade patch to fill cracks up to 1 in. wide
SealMaster
Sakrete Top N' Bond Concrete Patcher
Made from sand and cement
Add water for resurfacing and patching work
Polymer-modified
Layers may be applied from featheredge up to 1/2-in.or brushed on
Bonsal American
SP8/G Series II
Surface planer suitable for a range of applications including milling misaligned sidewalks and joints, removing thermo and cold plastic markings and prepping floors for new coatings
Can be equipped with various 5-hp industrial-quality gasoline engines
Unitized, welded steel plate frame
Maximum cutting depth of 5/8 in. with a cutting width of 8 in. and a 31/4-in. cutting proximity to a vertical wall
Screw-type, positive-locking depth selector
Water-mist dust control fitting
3-in. vacuum connection for further dust control
General Equipment
Multi-Gang Slab-Rider Drills
Pneumaticthree-gang Model 210-3 SRA, four-gang Model 210-4 SRA and five-gang Model 210-5 SRA
Compact frame design allows drills to operate in a 4-ft. patch while drilling to within 6 in. of a corner
Bits drill to a standard 18-in. depth orcan be adjusted to drill into the center of a 24-in. slab
Adjustable drill spacing from 12 to 36 in.
Tri-steering feature enables rotation within the drill's own radius
Auto-alignment features allow for quick repositioning after each hole set
Include a roller bearing feed system and individual regulator to set optimum drilling speed for each drill
E-Z Drill, Inc.
Ultraflow Underlayment
Line of four Ultraflow Brand Floor Underlayments offers high compressive strengths and versatility
Ultraflow G-1.0 designed for use in residential and light commercial applications, with a compressive strength of 3,500 to 4,200 psi at 10 to 14 days
Ultraflow 2.0 designed for fast application and setting and is ready to handle light construction traffic 24 hours after being poured
Ultraflow 3.0 designed for leveling or topping rough and spalled concrete and will accept floor coverings after 24 hours
Ultraflow 4.0 designed to act as a final floor surface or high-performance underlayment, allowing the return of light traffic within 24 hours
USG Corporation