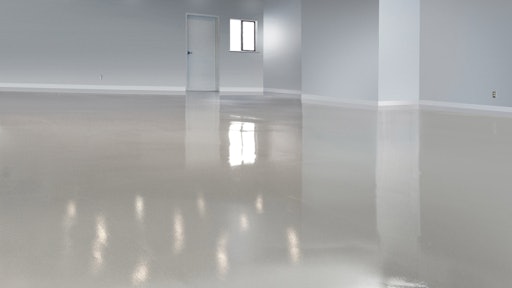 The Challenge:
Repair and resurface 4,000 square feet of concrete during a two day period
The Players:
Covalt Floor Leveling, Inc.
City of Laguna Niguel
The Process:                                               
Covalt Floor Leveling, Inc., a concrete repair and subfloor leveling contractor in Orange County, Calif., recently completed a 4,000-square-foot concrete repair and resurfacing project in only two days. The municipal campus of the city of Laguna Niguel, Calif., on Crown Valley Parkway was in need of major upgrades and renovations across the board, including concrete subfloor repairs and leveling. The first step was to build a new $24 million City Hall that opened in late December 2012.
The next was to renovate and upgrade the existing buildings on the property, which started with Covalt Floor Leveling on the scene for the entire subfloor resurfacing phase. Covalt Floor Leveling used a polymer-fortified, portland cement-based self-leveling underlayment that was capable of being poured from feather edge to any thickness in a single pour for this repair job.
"These are busy, commercial/municipal-type offices with years of mostly normal wear and tear from heavy foot-traffic," said Martin Covalt, president of Covalt Floor Leveling in Orange County. "This created a few different challenges for our team. The first was that almost every building had subfloors that were badly damaged with severely cracked suspended concrete slabs. Because these were all busy city office buildings, we needed to step up our pace without compromising the high standard of quality.
With the size and scope of the project, Covalt Floor Leveling sent a crew of seven professional concrete contractors to the expansive, multi-building city complex over a short holiday break. The contractor faced some serious challenges on this fast-paced project, namely severe cracks in the original suspended concrete slabs that needed to be repaired, resurfaced and made perfectly level. The Covalt Floor Leveling team worked closely with Laguna Niguel facility managers and engineers in the planning stages to identify the various office buildings and particular areas of concern to ensure a smooth, fast and problem-free concrete repair and subfloor leveling project.
The Covalt team finished well-ahead of expectations and was able to provide early access for the flooring installers.