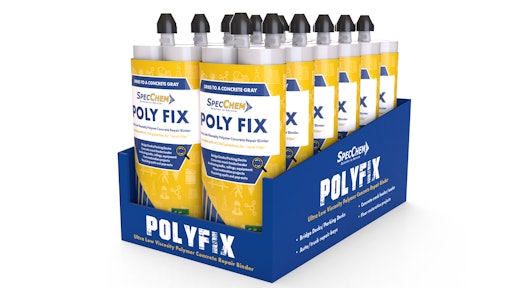 SpecChem LLC

Poly Fix is a high strength, two-component ultra-low viscosity hybrid polyurethane concrete repair binder. Poly Fix can be used to penetrate hairline cracks or mixed with dry sand to patch/repair concrete spalls or control joints. Poly Fix's water-like consistency also makes it an excellent crack healer/sealer for deteriorated concrete surfaces.
Benefits:
Easy 1 to 1 mix ratio
Penetrates concrete to seal against liquid absorption
Excellent resistance to a variety of chemicals
Dark amber color when mixed, dries gray
Cures in 10 min @ 75F
Structurally restores concrete surfaces
Tough permanent repairs
Usage:
Bridge Decks/Parking Decks
Auto/truck repair bays
Concrete crack healer/sealer
Concrete subjected to mild chemical attack
Anchoring bolts, railings, equipment
Floor restoration projects
Repairing spalls and pop-outs
Poly Fix is USDA accepted for indirect use in federally inspected meat and poultry plants.
Request More Information
Fill out the form below to request more information about
Poly Fix from SpecChem