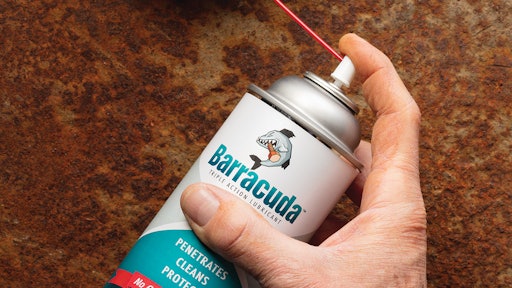 ChemMasters Inc.'s new industrial multi-purpose penetrant/lubricant Barracuda Triple Action Lubricant has a proprietary formulation that penetrates, cleans and protects metal. With a unique chemistry, it works quickly, attracting it to metal to help break loose corroded bolts, nuts, screws, pipe joints and other industrial parts. 
Barracuda Triple Action Lubricant can also be used as a metal cleaner or to quickly remove grease, grime and rust from metal surfaces without requiring harsh solvents or the over-powering odor of other similar products. In addition, the product can be used as a protectant, removing water with a moisture-displacement property that wicks it away from metal surfaces while providing a thin, imperceptible protective film. Independent laboratory salt-spray testing has proven it superior to other commercially available lubricants as a rust inhibitor on metal surfaces and parts.
Barracuda Triple Action Lubricant is also ideal for use on stamping blanks and dies for aluminum or steel coil or sheet stock. Additionally, it rust proofs machine tables, chucks, ways, gears bushings, tools or implements susceptible to corrosion from high humidity. It is available in 11 oz. aerosol can, 1 gallon (3.79 liter) jugs, 5 gallon (19 liter pails) or 55 gallon (208 liter) drums.
Request More Information
Fill out the form below to request more information about
ChemMasters Barracuda Triple Action Lubricant