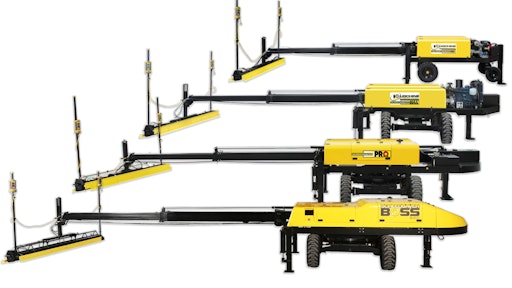 Ligchine International Corporation has become the world's #1 supplier of 2D laser and 3D GPS/LPS guided boom-extension concrete screeding machines taking pride in offering four wireless remote controlled, boom operated screeds.
Representing our compact screed line are the ScreedSaver II and ScreedSaver MAX 200. With a 130 ft² (12 m²) coverage per screed-pass for the SSII and 200 ft² (18.6 m²) for the MAX 200, any confined, difficult to navigate pour is possible.
For larger-scale work you may want to call on the large-sized ScreedSaver PRO 220 or the mega ScreedSaver BOSS 240. Both machines tote a 360° hydraulic turn system, LED lighting, and touchscreen display. The PRO 220 covers 220 ft² (20.4 m²) per screed-pass while the BOSS 240 covers 240 ft² (22.3 m²).
Request More Information
Fill out the form below to request more information about
Ligchine International Corporation 2D laser and 3D GPS/LPS Screeding Machines