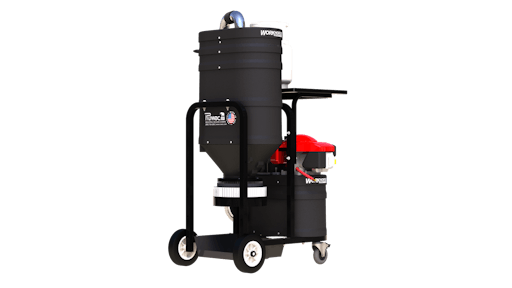 Ruwac USA

Ruwac USA's Workhorse WB307 13 h.p is a Honda propane-powered direct bagging vacuum. The WB307 is built with Ruwac's Max Flo multi-stage turbine system providing 300 CFM @ 85" H20. This Workhorse Series vacuum features an oversized 28 sq. ft. industry leading MicroClean primary filter, 99% efficient @.5 microns and guaranteed for 3 years. All Ruwac USA vacuums are built with their exclusive "bulletproof" oval housing design guaranteed to never dent, rust, or go out of round. External filter cleaning mechanism and continuous pull bagging system eliminates operator exposure to dust for a higher level of protection.
Ruwac USA engineers these vacuums to offer the lowest cost of ownership on the market. This means less filter changes, less filter clogs, less downtime and more production.
The Workhorse WB307 is designed to be paired with small to mid-size propane powered surface prep equipment where electrical power is not available.
For more information visit www.ruwac.com or contact Ruwac USA at 800-736-6288.
Request More Information
Fill out the form below to request more information about
The Workhorse WB307 Propane-Powered Vacuum