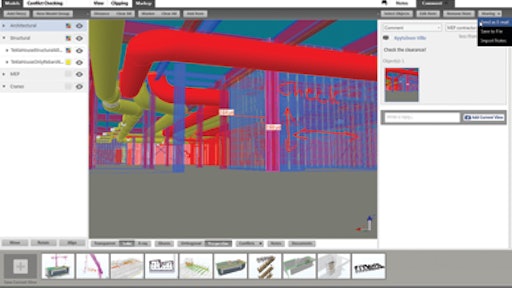 Becoming a part of the toolkit for construction professionals, Tekla BIMsight continues to evolve and now offers improved collaboration tools for construction projects. As before, it is still the easiest BIM tool available for everyone in the construction industry to download and share over the Internet for free. New features released today in Tekla BIMsight 1.3 make it even easier for project parties to find the relevant information from the various models and communicate the possible issues. The coloring function allows users to select colors for models or model objects, including transparency. The support for layers makes it easy to filter the relevant data and the support for units (SI and Imperial) makes the information easy to understand.
The current release continues to improve the collaboration aspect by introducing a way for Tekla BIMsight users to exchange notes in open BCF format. Tekla launched first version of this unique software application for building information model-based construction project collaboration in February 2011.
Tekla BIMsight success continues in the form of an ever growing user base of construction professionals and favorable reviews. Tekla is committed to offer the construction industry with the easiest BIM tool that should make it possible for any construction project to take on BIM and enjoy the benefits of timely project delivery and less RFI's.
"Tekla's mission is the same as before, to develop the construction industry towards the use of digital design tools and thus increase the efficiency of our customers processes and reveal their full potential." says Tekla Executive Vice President Risto Räty. Tekla BIMsight remains free and Tekla promotes it to be used for design coordination in all BIM projects - big and small.
Download Tekla BIMsight 1.3 software for free at www.teklabimsight.com.
Tekla
With its software, Tekla drives the evolution of digital information models and thus provides more and more competitive advantage to the construction, infrastructure and energy industries. The company was established already in 1966, and today it has customers in 100 countries, offices in 15 countries, and a global partner network. Tekla became part of Trimble Group in 2011.
Tekla BIM
With an ambition to multiply its customers' potential to think and achieve big, Tekla provides a BIM (Building Information Modeling) software environment that can be shared by contractors, structural engineers, steel detailers and fabricators, as well as concrete detailers and manufacturers.
The highly detailed as-built 3D models created, combined and distributed with Tekla software enable the highest level of constructability and production control. Centralizing building information into the model allows for more collaborative and integrated project management and delivery. This translates into increased productivity and elimination of waste, thus making construction and buildings more sustainable.
More information at www.tekla.com and www.teklabimsight.com.
Companies in this article