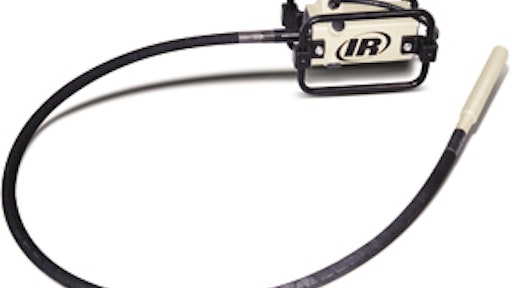 Ingersoll Rand Concrete Vibrators
The PL15E, PL20E, PL30E electric concrete vibrators and the PL25BP backpack unit offer mid-frequency and force characteristics to set particles in motion fast for rapid consolidation of homogenous mixes.
1½- to 3-hp electric models and 2½-hp gas backpack unit
Vibrator heads from ¾ to 2½ in. in diameter and flex shafts from 2 to 21 ft. or up to 42 ft. with connectors
Jlin Multivibe Hummer
Jlin Corp.'s Multivibe Hummer is a flex-hose vibrator that is lighter than a backpack.
Trigger throttle control to prevent excess splashing, overvibrating and bursting light formwork
Rubber-coated head available in three sizes
Core and casing up to 20 ft.
Designed to attach to a screed frame and power a 24-ft. long screed blade with no tools required
Multiquip MGX-Series Vibrators
The 6.4-lb. MGX-Series hand-held concrete vibrators are offered in two models with six head sizes ranging from 0.9 to
1.5 in.
Frequencies from 200 to 15,500 vpm
Available with hose lengths up to 6.6 ft.
Stone Concrete Vibrators
Stone Construction Equipment offers a full line of concrete vibrators with a selection of four electric motors and one gas-powered unit.
Range of interchangeable and reversible flexshafts and eight high-amplitude heads from ¾-in. diameter pencil size to 2½-in. diameter
1 7/8-in. rubber head for epoxy-coated rebar applications
Mold-injected nylon quick-disconnect system
Northrock Poker Systems
Northrock's concrete poker vibrator systems are designed to maintain optimum frequencies regardless of load demand.
Standard heavy-duty and light-duty pencil shafts in lengths from 1 to 23 ft.
Seven no-maintenance, factory-sealed vibrator heads in ¾- to 2½-in. diameters
Denver External Vibrators
Traditionally known for internal vibrators, Denver Concrete Vibrator now offers a complete line of external vibrators.
Commonly used in the concrete industry on forms, screeds, floats and shaker-tables, the company's external vibrators can also be used on hoppers, chutes, feeders and more
Wyco Electric Square Head
The Electric Square Head concrete vibrator was able to compact concrete 20-50 percent faster than the round head vibrator during laboratory testing.
Radial fan provides a cooler motor
End cap protects the switch
Dynapac SMART Vibrators
The SMART electronic poker vibrators are lightweight and require no additional device or equipment to generate high frequency.
Suitable for 230V-1-50/60 Hz or 115V-1-50/60 Hz
Convert from 230V to 115V with a change of the poker head
Start-up controlled by electronic ramp
Wacker Hybrid Vibrator Heads
The HMS flex-shaft concrete vibrators are available with a high-amplitude hybrid head series that combines the properties of a round head with square head technology.
Provide greater concrete consolidation and high-speed concrete liquifi­cation
Four hybrid heads ranging from 1- to 2-in. diameters
Stow BP25H Backpack Vibrator
The BP25H lightweight backpack vibrator allows contractors to conveniently carry the unit around the jobsite.
Weighs only 24 lbs.
2.5-hp Honda gasoline engine with flow-through ventilation
Offered with seven steel and four rubber heads ranging in diameter from 7/8 to 2¾in. with a maximum length of 17in.
Flexible shafts range from 2 to 21 ft. long
Allen Flex-Shaft Vibrators
Allen Engineering offers a complete line of Flex-Shaft concrete vibrators to handle any size or type of job.
Powered by 115-volt grounded aluminum electric motors on a four-cycle Honda gasoline engine
All Allen Flex-Shaft vibrator heads, shafts and power units are interchangeable
Global Mfg. VMG-2500BP
The Viber VMG-2500BP portable gasoline-powered backpack has a four-stroke Honda engine.
Easily accessible throttle control and kill switch
Up to 12,670 rpm with any size Viber head
Total drive length of 35 ft.
Vibco Silent Vibrators
The CCL-4000, CCL-5000 and CCL-7000 "Silent" Pneumatic Turbine High Frequency vibrators are designed to replace high-frequency, roller-type models.
Run at 78 to 85 dB
High-speed bearings with oil seals that are pre-lubricated for life
Can be mounted and started in any position
Minnich Flex Shaft Vibrators
Minnich offers a full line of electric, gasoline and hydraulic flex shaft vibrators.
Electric motors available in 9, 15 or 20 amps
Shafts available in 2-, 5-, 7, 10-, 14- and 21-ft. lengths
Cast aluminum motor housing
Hand-held, back pack and cart gas models available
Wyco Model 402 Backpack Vibrator
The gas-powered Model 402 portable, self-contained backpack vibrator is suited for use in remote and hard to reach jobs such as bridge decks or culverts.
Also suited for use as an emergency or backup vibrator
Easy operator control of vibration speed via the engine throttle
Robin engine supplies consistent, full-vibrating capacity to the Wyco Square Head vibrator
Available with a choice of shaft lengths and head sizes
Cleveland Vibrator
Cleveland Vibrator is ideal for stationary or mobile concrete dispensers, small bins and hoppers.
Can be coated to eliminate lubricants
1¼- and 2-in. pistons on rectangular base model, with 1¼- to 9-in. pistons on the square base model
Wacker External Vibration System
The lightweight, portable Plug & Play external vibration system incorporates vibrators fit on the outside of formwork that are activated as concrete reaches the level of the vibrators.
AR 36 external vibrators mount to most common formwork systems via clamps
Vibrator force adjustable using a 42-volt, three-phase frequency inverter